Kean Hosts Google Women in Computing Event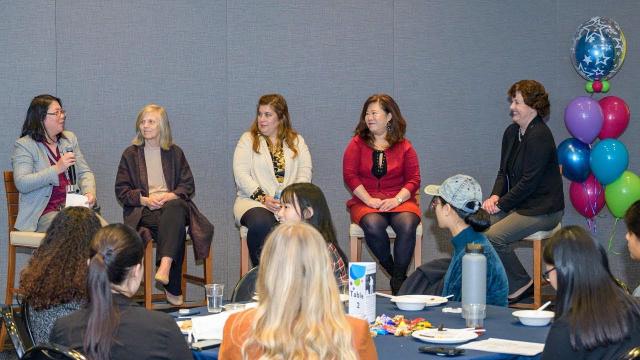 Kean Alumna Encourages Women in Computer Science to Consider Research Careers
When the Kean School of Computer Science and Technology wanted to encourage young women from across the region to pursue careers in computer science research, it turned to one of its own, alumna Yerika Jiménez.
Jiménez '14, who is pursuing a doctoral degree in human-centered computing at the University of Florida, was the keynote speaker at Kean's Exploring Research: Women in Computing conference, held last week at Kean. The conference, sponsored by Google and other organizations, was designed to introduce undergraduate students, particularly women, to research opportunities in computer science and information technology.
VIDEO — Exploring Research: Women in Computing Conference
Jiménez walked the audience through her academic journey, from her days as a curious child who would fix radios and mobile phones for the residents of her community in La Vega, Dominican Republic, to the challenges of being a Kean undergraduate and her realization that computer science research is her future.
Through it all, she said, mentors like Patricia Morreale, Ph.D., executive director of the School of Computer Science and Technology, played a key role in boosting her confidence and keeping her on track.
"She believed in me when I didn't see my potential," Jiménez told the audience. "You are not here because you are lucky. I want you to realize your potential too."
In addition to finding a mentor, Jiménez said young women looking to succeed in computer science research should attend conferences, apply for fellowships, learn to take constructive criticism; and make mistakes.
"Asking for help is crucial," she said. "I know that sometimes you may feel like, 'I have to figure this out myself,' but after you have hit a wall for a month, it is time to ask for help. Dealing with failure makes you humble and has a lot of good lessons."
The daylong conference was funded by Google's explore CS Research program with additional funding provided by the BRAID Affiliate program of AnitaB.org. 
It was a North Region event for the Computing Alliance of Hispanic-Serving Institutions (CAHSI), of which Kean University is a member, and featured an opening address by James Geller, Ph.D., associate dean for research of the College of Computing Sciences at New Jersey Institute of Technology. 
Participants attended workshops such as Research 101: Where to Begin on this Journey?; Learning How to Network; and How to Maximize Your Chances for Graduate School as well as panel discussions featuring women who made their careers in research. 
"Kean is an ideal place for this initiative, as many Kean students go on to graduate programs because they were introduced to research as undergraduates and worked with faculty mentors," Morreale said. "We also have Research Days at Kean, where our students practice communication, leadership, analysis and presentation — all of them important, professional skills."
Students who attended the conference were matched with mentors who will support them in conducting undergraduate research and exploring careers in research.