Kean Hosts Second Virtual Student Town Hall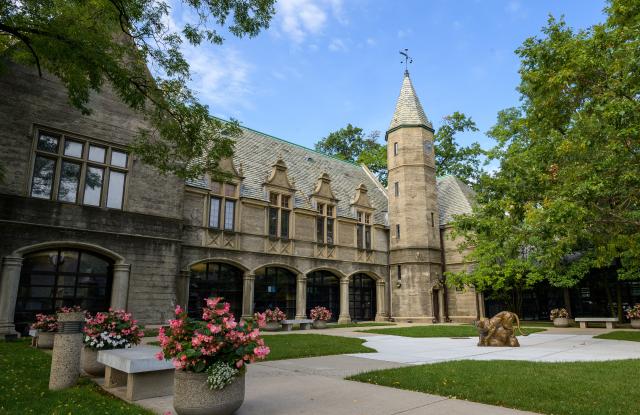 President Lamont O. Repollet, Ed.D., fielded questions from students about Kean's upcoming commencement ceremonies, COVID-19 vaccines and the University's plans for the Fall semester during his second Virtual Student Town Hall on April 22.
"So much has changed since our first Town Hall in November," Repollet said as he welcomed students to the livestreamed event. "Your voices are critical. You are the reason we all are here. You'll be heard, and we will respond."
Students, faculty and staff tuned into the hourlong virtual meeting as Repollet, assisted by Student Trustee Jason Pleitez and Alternate Student Trustee Kobe Robinson, fielded questions about the ways that COVID-19 continues to impact Kean. Pleitez is a junior in the Management program and Robinson is a junior majoring in Communication.
"I'd feel more comfortable knowing that all students are vaccinated," said senior Antonio Passalucqua, a student in the Elementary Education program. "If it's not required, how will you make students safe?"
Repollet said he highly recommends that all students receive a vaccine. But he said he is not ready to mandate vaccinations for the Fall semester until access to the shots is guaranteed for all.
"We have been working toward vaccine availability," he said.
In response to several questions about Fall 2021 classes, the president said there will be two forms of instruction at Kean next semester: traditional in-person classes and Kean Online, which offers asynchronous online classes. 
Repollet stressed that social distancing will continue, along with mask-wearing, hand-washing and other health and safety measures to combat the spread of the disease. "We're going to go through this together," he said.
Some students asked about parking, noting that many spaces are used by the Union County COVID-19 testing site in the NAAB parking lot. Repollet said the testing site will remain "as long as needed," but Kean staff are reviewing the parking situation to determine whether the footprint of the testing site can be reduced.
"We are in the planning stage," Repollet said.
Not all the speakers focused on COVID-19. In a written question, Psychology major and freshman, Trinity Thompson asked for vegan food options in the dining hall, saying as a vegan, she has few food options. 
Repollet said he would add her to the committee on dining hall food so her concerns are addressed. "We need to make sure students have food security," he said.
The first student who spoke, senior Tanvi Tandan, who is senior class secretary and majoring in Public Administration, asked whether Kean graduation caps and gowns will be delivered in time for Commencement. 
Repollet reassured her that they would, and said he would ask Kean's Commencement Committee to make certain of the shipment and delivery dates. 
"I'm very confident you will have caps and gowns," he said. "At Kean, we put on the best Commencement ceremonies in the state."
For more information or to watch the event, visit the Student Town Hall website.