Kean Industrial Design Students Shine in Prestigious Cooper Hewitt, Smithsonian Museum Exhibit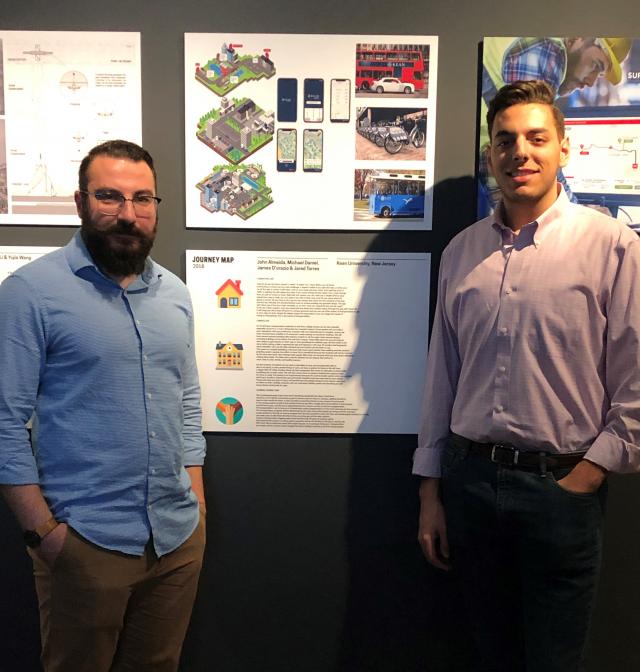 A team of Kean industrial design students is exhibiting its transportation vision for the University at the prestigious Cooper Hewitt, Smithsonian Design Museum in New York City, one of only five student teams selected from across the nation.
Their project,  "A Day in the Life of a Kean Student," has been included in the exhibit, The Road Ahead: Reimagining Transportation. The exhibit opened in December, and is scheduled to be on display until March 31. The other universities represented are Harvard, Arizona State, the University of Michigan and the University of Washington.
The students, all of whom are in the industrial design program at Kean's Michael Graves College Robert Busch School of Design, collaborated on the project that brainstormed new means of transportation. They came up with a shuttle system leading to Kean; a fleet of on-campus self-driving carts; and a fleet of assisted-pedal bicycles, with apps that tie all the features together.
"The whole idea is to come up with new ways to transport people, products, etc., in a more efficient and beneficial way," said sophomore James D'Orazio of Wyckoff, one of the team members. "Having work displayed at Cooper Hewitt is such an amazing accomplishment. I couldn't believe it when we were told the good news."
Other team members are sophomores John Almeida of Roselle Park and Jared Torres of Camden, and senior Michael Daniel of East Orange.
Efecem Kutuk, an assistant professor and program coordinator of the Industrial Design program at Kean, said the exhibit covers a wide spectrum of thought-provoking ideas. 
"It's the dream of every designer to exhibit their work in Cooper Hewitt, a priceless experience for passionate designers. This experience will open up a lot of doors for our students when they start to apply for internships and jobs," Kutuk said.
The Cooper Hewitt, Smithsonian Design Museum is located in "Museum Mile" on the Upper East Side of Manhattan. 
While Kean work has been included at Cooper Hewitt before, Kutuk said being selected is always an exciting accomplishment.
The Robert Busch School of Design offers studio-based programs in graphic, industrial and interior design.The school is part of Michael Graves College, which carries the name and endorsement of one of the world's late premiere architects and designers, Michael Graves.