Kean Kicks Off COVID-19 Expert Series Focusing on Vaccine Advocacy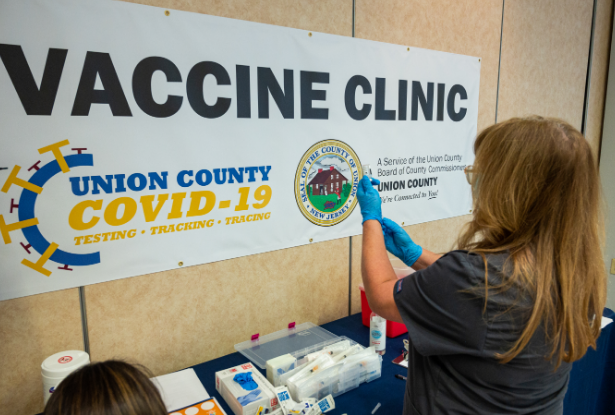 In collaboration with the State of New Jersey, Kean University today launched a roundtable discussion series to highlight the importance of COVID-19 vaccines, especially for communities of color, and other pandemic-related issues.
COVID-19 Vaccinations and New Jersey's Path Forward will feature government, health and policy experts addressing critical COVID-19 topics, including vaccines, urban community issues, student-athlete safety, and supporting women in the pandemic. The four-part series will be streamed Fridays at 10 a.m., from February 12 to March 5 and is accessible to the public via YouTube.
The new initiative follows a public statement made this week by Kean President Lamont O. Repollet, Ed.D. and five other New Jersey college and university presidents of color, urging everyone, particularly members of Black and brown communities, to get vaccinated as soon as they are able to do so. Repollet also distributed a similar video message to the faculty, staff and students at Kean. 
"Through open dialogue, we want to show why facts and science, not fear, need to guide us as we all work together to help end this pandemic," Repollet said during today's kickoff event. He promised the series would explore "tough but important conversations."
Also taking part in the kickoff were U.S. Representative Bonnie Watson Coleman, the Rev. Derrick Green, senior advisor to Governor Phil Murphy, and New Jersey Commissioner of Health Judith Persichilli.
"Research shows the COVID-19 vaccines available are effective and have no known side effects," Repollet said. "With Black and brown communities being disproportionately affected, now is the time."
Coleman, who represents portions of Mercer, Middlesex, Somerset and Union counties, said the series can meet a need for educating minority communities. 
"There is a tremendous need for voices that are validated in our community, trusted voices, to be able to talk to people about why it is important to vaccinate," she said.
Green said getting underserved communities access to the vaccine is the "number one priority" of the governor. "We believe very strongly that we are going to ensure that our communities get vaccinated," he said.
Persichilli, the state health commissioner, said the statistics surrounding COVID-19 are "alarming." Young Hispanic males are 2.5 times more likely than whites to die of COVID-19 in New Jersey, and Black men and women are twice as likely to die than their white counterparts, she said. And, while some 850,000 vaccine doses have been given in the state, she said Black and LatinX New Jerseyans account for only 8% of them.
While the process is still early and scarcity of supply has been a challenge, she said Governor Murphy's administration is "laser focused" on getting the vaccine to minority communities. 
The state is collaborating with religious leaders, mayors and community groups in minority communities; creating pop-up vaccination sites, the first of which will open next week; preparing video messages; and reaching out to train and deploy community health workers to give the vaccine.
"The department is working to build confidence in the vaccine and roll it out into minority communities," Persichilli said. "Our work on COVID-19 response has been done with an equity lens."
The topics of the series are as follows:
February 12: Vaccine Safety and Efficacy
This panel will include health experts and directly address the stigma and apprehension felt by communities of color regarding vaccine safety.

February 19: Next Steps for Our Urban Communities
This panel will include government leaders in the state's urban communities and address strategies for reaching urban communities with important vaccine messages.

February 26: Returning to Play for New Jersey's Student-Athletes
This panel will include coaches and educators and address how to bring student-athletes back to the playing field while also protecting their safety.

March 5: Supporting Women at Work and at Home
As Women's History Month begins, this panel will include policy and advocacy experts and address the impact of the pandemic on women professionally and personally as well as solutions and strategies to mitigate those issues in New Jersey.
More information about the roundtable series is available at kean.edu/pathforward. Viewing information will be posted before each panel.