Kean KUBS Volleyball Clinics Teach More than Sports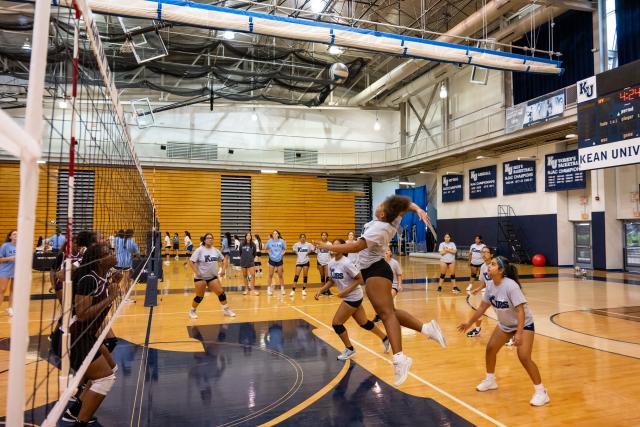 The Kean University Building Stronger (KUBS) Urban Communities program has launched volleyball clinics to bring pre-college students onto Kean's Union campus for sports and an introduction to college life.
KUBS, a program that introduces underrepresented young people to college through athletics, hosted about 70 girls from Bayonne, Elizabeth, Hillside, Irvington and Long Branch high schools at its first girls volleyball clinic in late August.  A volleyball clinic for middle school boys from those same communities will be held on Saturday, September 23.
The Kean women's volleyball team and Head Coach Don Perkins worked directly with the girls, offering tips, strategies and coaching advice.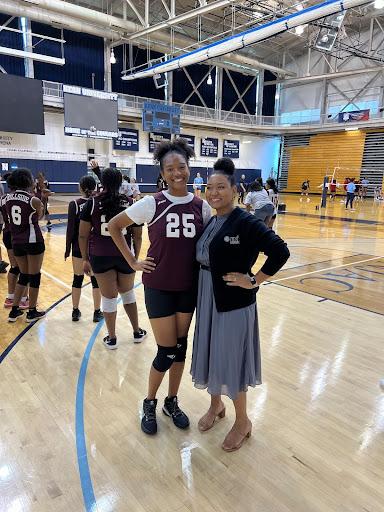 Perkins said the experience far exceeded his expectations.
"I think our players enjoyed the KUBS clinic as much as the high school players did," he said. "To see that connection, that engagement from both sides, says a lot about the potential here. I look forward to building out the volleyball part of KUBS and the relationships with these schools and communities."  
While at Kean, the girls also heard from guest speaker Lauren Agnew, an All-American women's player at William Paterson University and the first African American women's player to be inducted into the university's Athletics Hall of Fame. She shared her inspiring journey as someone who broke barriers in women's volleyball and emphasized the importance of teamwork, perseverance and dedication in achieving success, both in sports and in life.
Sophomore education student Alison Kowalewski from Sicklerville, New Jersey, an outside hitter with the Kean squad, said the energy from the girls and Kean players was "awesome." 
"Seeing the high school girls learn over the course of a couple of hours, and then seeing it all come together during the play time at the end of the day, was really nice to watch," she said. "I'm glad I get to be someone who may make an impact on someone's life." 
Kean's KUBS program addresses the underrepresentation of minority and low-income youths in higher education, athletics, the arts and STEM. Kean, New Jersey's urban research university, is an urban anchor institution in New Jersey with a focus on academic excellence, equity and student success.
Through the KUBS program, the Kean Division of Transformational Learning and External Affairs and Kean Athletics are connecting to communities and bringing awareness to Kean's academic, sports, student engagement and service-learning opportunities. 
"The athletics department is excited to support the mission of KUBS and looking forward to the next opportunity to have a positive impact on the various school districts and students who will visit Kean University," said Kean Director of Athletics Kelly Williams. 
The KUBS program is modeled after the hugely successful Penn Young Quakers Program in West Philadelphia, according to Senior Vice President for Transformational Learning and External Affairs Joseph Youngblood II, Ph.D. 
"KUBS participants gain exposure to our world-class university, and our dynamic student-athletes experience all of the benefits of paying it forward through service," he said. "When I think of Kean and our president's vision of where we are going, I think about the intergenerational impact and change that we will have on children and communities across the state."
The volleyball clinic for middle school boys will be led by the Kean men's volleyball team and Head Coach Bez Arslani. 
For more information about the KUBS program, contact KUBS Coordinator Michael Shapiro at shmichae@kean.edu.