Kean Ocean Senior Builds Communication Skills by Sharing History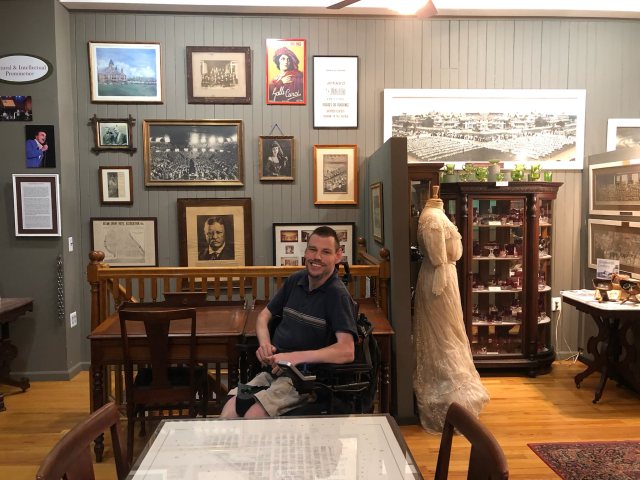 To learn about the interesting history of Ocean Grove, just ask Kean Ocean senior Andrew McGeady.
McGeady, a communication studies major from Jackson, has developed important career skills and gained professional experience by interning as a docent for the Historical Society of Ocean Grove.
In his role at the Historical Society Museum in the shore community, McGeady meets visitors, leads tours through exhibits, and answers a plethora of questions about the town's history, which dates back to 1869.
"I want to be a better communicator," McGeady said.
Courtney Atkins, a lecturer and the coordinator of the communication program at Kean Ocean, said McGeady researched how to be a tour guide, studying "tricks of the trade" in part by watching travel videos created by travel writer Rick Steves.
McGeady also got to practice public speaking and became comfortable interacting with visitors, many of whom were summer tourists and knew little about the town.
As for gaining his core historical knowledge of the town, that came naturally: McGeady has volunteered at the museum for a decade. 
Atkins said McGeady led her on a tour of exhibits, including Victorian-era fashion, musical instruments, and the history of the Methodist community that founded the town as an outgrowth of its annual summer "Camp Meeting."
"Andrew is a real class-act. He has a witty sense of humor, and it's been a privilege to advise him during his undergraduate journey. He definitely wants to learn," Atkins said. "As Andrew's advisor, I found working with him to be educational for me as I explore opportunities to support students on the path to their careers."
McGeady also serves as an usher at the The Great Auditorium in Ocean Grove and does other volunteer work to help the community.
McGeady, who uses a wheelchair, said after graduation he is "keeping options open" when it comes to finding a career. One goal is to build and maintain a blog that provides support and resources for people with disabilities and their families, he said.
Atkins said she is confident he will continue to make a difference.
"I know he's going to create an impact for the disabled community through his advocacy," she said. "I see him in a role where he can open doors for people to have equal opportunities in education and internships.
"He will help and serve others to make a difference in the community. He already is doing it," she said.
Tagged