Kean Opens Bright New Child Care Center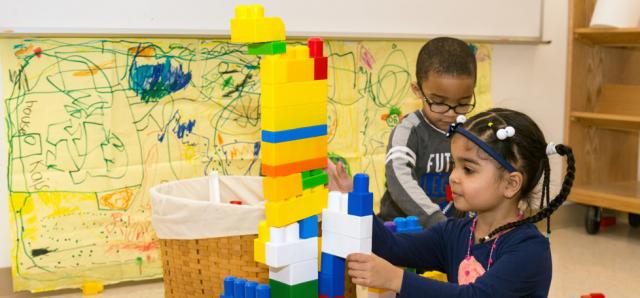 Kean University's youngest students now have a new preschool space to learn and grow.
The University recently celebrated the opening of the new Kean Child Care and Development Center space in the Technology Building, marking another step in the ongoing transformation of the Union campus.
"Look at these faces. That is where the future is," Kean President Dawood Farahi, Ph.D. told a crowd of students, parents and campus leaders during a ribbon-cutting ceremony. "This facility allows us to serve your children the best we can, to bring out in them the amazing potential that they have. This is a beautiful place, worthy of you and your children."
With capacity for 70 students, aged two and a half to five, the new Center is an airy space with four classrooms, an evening care classroom, and an indoor playroom for inclement weather. Outside, there is a bike-riding track, jungle gym and other areas for the children to enjoy.
Learning alongside the Center's young students are more than 20 Kean students, many of them from the College of Education, who work as teacher assistants, getting real-world classroom experience.
"Here at the University, world-class education is our mission, and the Center provides the opportunity to connect classroom theory with practice," said College of Education Acting Dean Anthony A. Pittman, Ph.D. "The practical experiences that our candidates gain here will help them to become better teachers in the future."
The preschool, which has been in operation since the 1970s, follows the Reggio Emilia philosophy of education, which recognizes each child's innate knowledge and builds on it to expand language and development.
"Reggio says the environment is a teacher, and the more that students engage with their environment, the more they are going to learn and grow," said Samantha Grab, the Center's director. "This new space allows us to delve more deeply into areas of interest of the children to create a stronger foundation for their academic development. We also have tremendous opportunities for students across many disciplines at the University to carry out research and do observations of young children."
Anna Chan, a sophomore elementary education major from Washington Township in Gloucester County, is one of those Kean students.
"Getting my foot in the door, working with students from different backgrounds and cultures has helped me realize that each child is different," she said. "I believe that when I get my own classroom, I can put what I learned here to work."
The Center is open to the children of Kean students, faculty and staff, as well as nearby residents. Grab suggests that parents take a tour first to make sure the Center is the right place for their child. If someone is interested in enrolling a child, it's best to get an application in early because the preschool usually has a waiting list, she said.
Kean Archivist Erin Alghandoor's four-year-old son is enrolled, and her six-year-old daughter is a graduate. She likes the child-led learning approach, the bright, welcoming classrooms and the redesigned playground filled with fun things to do.
While parents may be happy with the new Center, the true proof of its success comes from its young pupils. Jemia Singleton of Kenilworth's four-year-old son is in Miss Evy's class.
"My son says he loves everything. The windows, the colors, everything," she said. "A lot of thought was put into bringing the school to life. What's not to love? It's an amazing building."
For more information about the Kean University Child Care and Development Center, contact Director Samantha Grab at (908) 737-6140 or kuccc@kean.edu.