Kean Receives $2.7 Million Grant to Provide Free Child Care for Students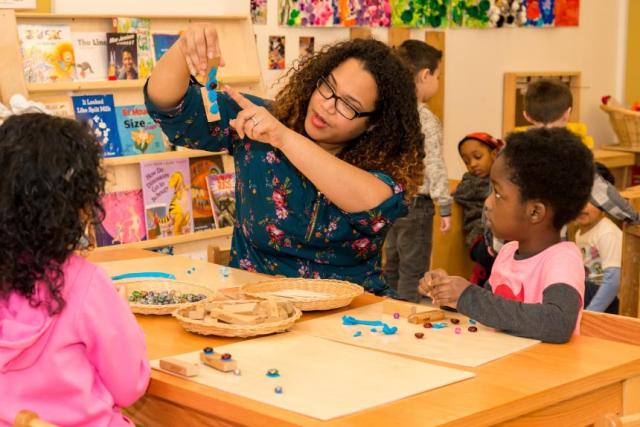 A $2.7 million grant from the U.S. Department of Education will provide free child care for children of low-income Kean students at the University's Child Care and Development Center on the Union campus.
The CCAMPIS grant – Child Care Access Means Parents in School – is designed to help parents of young children pursue their academic dreams at Kean by providing child care for their offspring.
"We are thrilled to have been awarded a competitive CCAMPIS grant from the U.S. Department of Education to support the educational success of low-income student-parents at Kean," said Jennifer Chen, Ed.D, professor of early childhood and family studies. "This grant and its associated vital work align perfectly with Kean's foundational pillars of equity and academic excellence."
Up to 50 children whose parents meet eligibility requirements will be enrolled in the preschool per year, and 50 in after-school care. There will be no cost for the parents in the first year, and the level of financial assistance will be reevaluated in each of the remaining years of the four-year grant.
"The CCAMPIS program uses best practices and resources to support low-income parents," said Chen, the grant's principal investigator. "We believe this comprehensive level of support will also encourage future student-parents to attend Kean, knowing there is a strong support system in place for their young children and themselves."
The program is a collaborative effort among several units and individuals across campus. The grant was an initiative of the College of Education, the Child Care and Development Center, and Cougar Connections. The Divisions of Entrepreneurial Educational Initiatives (EEI), Student Success and Retention and others are assisting with promoting the program.
The program includes academic, personal, professional and parenting resources for the student-parents. 
Barbara Ridener, Ph.D., dean of the Kean College of Education, said the CCAMPIS grant "will be a tremendous benefit to our students.
"Through this program, we will be able to provide support for Kean student-parents and their children," she said. "Knowing that their children will receive quality care at little or no cost will enable them to excel and reach their full potential."
CCAMPIS also includes professional development for Child Care Center teachers and research opportunities.
"This grant supports students as they persist to graduation by removing a financial obstacle and simultaneously providing high-quality child care for students' children," said Sancha K. Gray, Ed.D., senior vice president for EEI. "We are hearing from students who are very eager to learn more about the CCAMPIS daycare and after-care program." 
To apply for child care funding, Kean students must be Pell Grant eligible and have a FAFSA on file. Kean students may be full or part time. There is no deadline to apply.
Applicants will be selected based on several factors, including greatest need, application date, and Kean Child Care Center space availability. 
The Child Care and Development Center is already seeing the impact of the grant.
"We get to see firsthand the joy the student-parents feel when they receive the news they are eligible for the CCAMPIS grant," said Georgina Criado-Hall, acting director of the Child Care and Development Center. "They couldn't be happier."
In addition to Chen, Rider and Criado-Hall, the CCAMPIS team includes Margaret Czerwonka, CCAMPIS project director; and Erika Charles, director of social work at Cougar Connections.
For more information on CCAMPIS, please visit https://www.kean.edu/offices/child-care-center/ccampis.
Tagged