Kean Research Days 2022 Highlights Student Discovery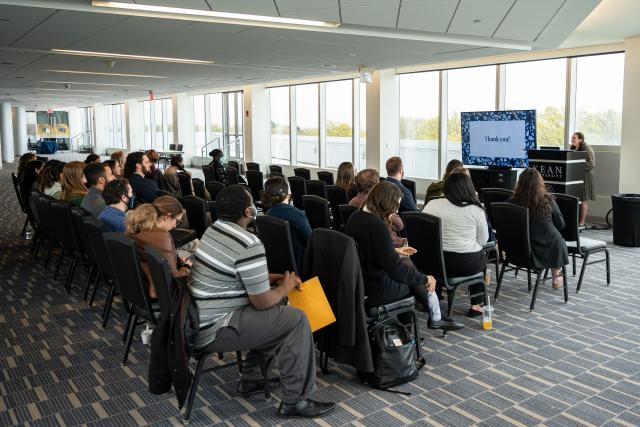 Kean's annual Research Days event kicked off this week, showcasing student and faculty research on topics from racial injustice to the analysis of the leadership styles of Fortune 500 CEOs.
The celebration of academic research at Kean also included a keynote address, panels on various topics, and the presentation of awards to top researchers and designers.
The event, which continues until Wednesday, April 27, takes place both online and in person. Highlights include recorded oral presentations on the Research Days 2022: Hybrid website; and in-person poster presentations by students at Kean's main campus and Kean Ocean. Events also take place at Wenzhou-Kean University in China. For a full schedule, visit the Research Days website.
"Kean's Research Days showcase the important work done by Kean University scholars at all levels," said Kean President Lamont O. Repollet, Ed.D. "Research has always been an important part of a Kean education. Our commitment to research is growing as the University was named the first urban research university in New Jersey, and is working toward designation as an R2 research institute by the Carnegie Commission on Higher Education. I applaud all Research Days participants and invite the Kean community to explore their work."
Kean's Research Days began in 2009 with 90 student researchers, and this year included more than 1,300 students.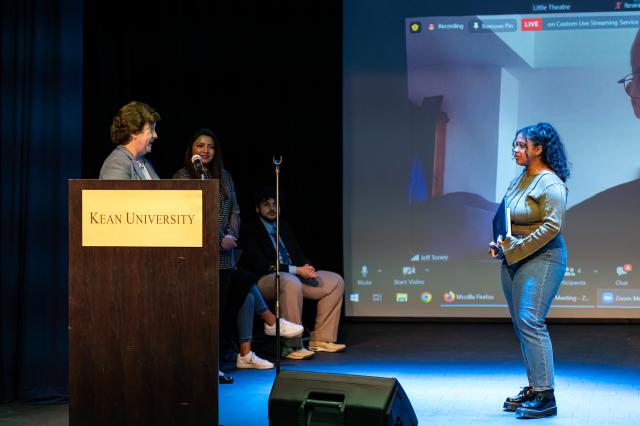 Kean Senior Vice President for Research Jeffrey H. Toney, Ph.D., said the growth reflects the vibrant level of student research engagement at Kean.
"Each of these distinguished students will share their discoveries that began with a question and often opened up many more for others to pursue," he said.
Kean senior Stacy Fortes, a computer science major, used Twitter data from 150,000 tweets to research sentiment toward COVID-19 vaccination. She now plans to expand her work to a data set of two billion tweets.
Her research, which found views on vaccinations were not very polarized by state, led to her being named Undergraduate Researcher of the Year.
"I feel very accomplished," she said. "When I started doing research sophomore year, I started knowing basically nothing. Then I got into different research projects. I think it's really important to do research as an undergraduate."
Fortes's faculty advisor is Assistant Professor Daehan Kwak, Ph.D.
Other award winners are Graduate Researcher of the Year Keryn Kleiman, a doctoral student in Kean's Combined School and Clinical Psychology Program; Faculty Research Mentor of the Year Min Chung Han, Ph.D., assistant professor of marketing at the College of Business and Public Management; and Research Days Cover Contest Winner Patrycja Sliwowska, a junior graphic design: interactive, print, and screen major.
Honorable mentions went to Kean alumna Lindsay Nell O'Connell, a December 2021 graduate in graphic design: interactive advertising; and junior Saloni Ahuja, a graphic design: interactive, print and screen major. 
Research Days 2022 began on Monday, April 25, with a keynote address by nonprofit cofounders and authors Winona Guo and Priya Vulchi. The two, who met in high school in New Jersey, are now college students, Guo at Harvard and Vulchi at Princeton.
Their work with CHOOSE, their nonprofit, and their book, Tell Me Who You Are, focuses on racial literacy. They traveled to all 50 states, interviewing people of all ages and "sharing our stories of race, culture and identity."
"From each interview, every single person, we learned so much," Vulchi said.
"Race has always been impactful to every part of our lives," Guo said. "None of us can fully experience the realities of people different than us, we can't trade places. How do we bridge that gap?"