Kean Staffer Honored at Event Hosted by VP Kamala Harris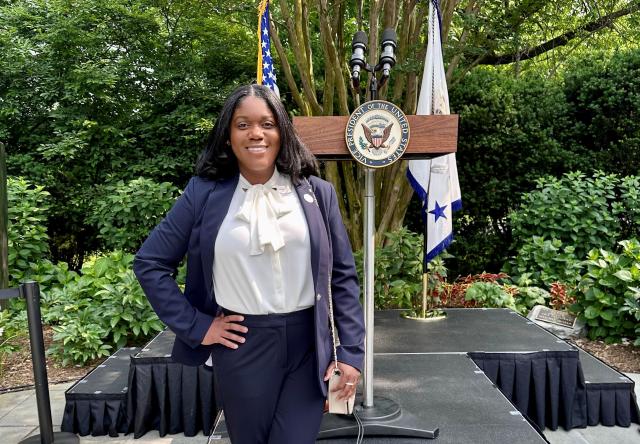 Kean University alumna and staff member Nekeisha Blandin '08 had the chance to mingle with Vice President Kamala Harris at a recent event in Washington, D.C. celebrating mothers, mentors and other inspiring women.
Harris and her husband, second gentleman Douglas Emhoff, hosted the May 23 event called Día De Las Madres at their home on the grounds of the Naval Observatory in Washington, D.C. 
"I was honored to bring this tradition to my home," the vice president wrote on her Facebook page. "To all the outstanding madres, abuelas, tías, comadres, and madrinas, thank you for all that you do to champion, encourage, and support us."
Blandin, who works at Michael Graves College (MGC), was one of about 100 women attending the event. She was nominated by her younger sister, Neisha Blandin, chief of staff at NARAL Pro-Choice America, as a woman who inspires her. In her nomination, Neisha Blandin noted her sister's multiple accomplishments as a graduate student, mother and full-time career woman, who also coordinates health care needs for their elderly father.
"The celebration was beautiful." Nekeisha Blandin said. "There were so many inspiring women being honored by their loved ones for the immeasurable impact they have had on their personal and professional accomplishments. Vice President Harris gave a moving speech about the contributions of women to our lives, as well as the numerous women in her own life who have exponentially contributed to her success."
The event was co-sponsored by Telemundo.
At MGC's Robert Busch School of Design, Blandin assists with everything from registration to fiscal projections and event coordination. She also serves as a liaison between faculty, students and the Kean community, and oversees student workers. 
She holds a master's degree in management, specializing in nonprofit and association management, and is working on her graduate certificate in leadership and management, both online from the University of Maryland Global Campus.
Blandin, who immigrated to the United States from Trinidad and Tobago with her family at age 12, earned her bachelor's degree in biology at Kean in 2008. She has spent most of her career at the University, as a student worker, academic specialist and now program assistant.
"Kean's educational approach and philosophy taps into students' experiences and interests," she said. "Our faculty and staff act as facilitators, guiding and encouraging students. We are resources for our scholars to obtain and grasp knowledge rather than the gatekeepers of information."
"I want to embody Kean's dedication to a 'student-centered educational environment,'" she added. 
Tagged