Kean Student Discovers 'No Place I'd Rather Be Than in a Lab'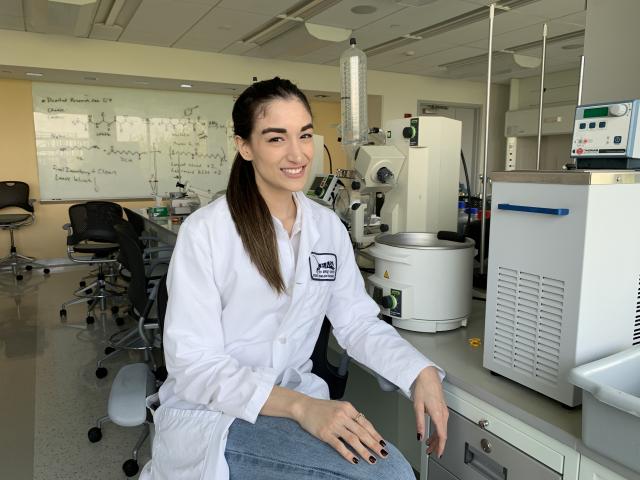 Catalina Gaviria always dreamed of becoming a scientist but struggled to believe she could do it until she came to Kean University.
When she moved to the United States from Colombia at age 13, she was placed in ESL and basic-level classes at Roselle Park High School. Well-meaning staff steered her away from advanced science courses.
"I have always loved science and the idea of helping others through my work, yet I struggled with recognizing myself as a scientist," she said.
But Gaviria, now 23, pursued her dream. She took AP Chemistry in high school, earned her associate degree, and began doing research the day she started classes at Kean's NJ Center for Science, Technology and Math (NJCSTM).
Now a New Jersey Governor's STEM Scholar, Gaviria will graduate summa cum laude from Kean with a bachelor's degree in science and technology with a molecular biology option and chemistry minor. After Commencement, she will enter the NJCSTM master's program in science and technology with a biotechnology option.
"I am thankful for all the opportunities I have been granted," Gaviria said, crediting her parents, boyfriend and high school chemistry teacher for support.
"NJCSTM was finally the place where I believed in myself as a scientist, where I found my purpose in the scientific world, and where I found there is no place I'd rather be than in a lab," she said. "The only thing I regret about my experience at Kean was the lack of time to explore every research opportunity NJCSTM has to offer."
Gaviria, who became an American citizen as a teenager, currently supports herself. Her father, mother and stepfather live in Colombia, but all three parents will be here for graduation.
She was selected for New Jersey's Governor's STEM Scholars, a prestigious public-private partnership that connects high-achieving STEM students with leaders in the state's STEM economy. Through that program, she leads a group of six top high school students in undergraduate research.
Gaviria was also awarded a paid internship with L'Oreal, and she has conducted research in biotechnology and analytical chemistry both at L'Oreal and at Kean.
"Catalina Gaviria has accomplished much as a Governor's STEM Scholar and as a student at Kean. She is a passionate and talented researcher who represents the best of what Kean has to offer," said Keith Bostian, Ph.D., dean of NJCSTM. "Like many Kean students, she has impressively overcome adversity to excel in both her studies and in research, and we are proud of her."
Gaviria said she hopes to ultimately achieve her Ph.D. in molecular biology and work in industry conducting research. As for graduation itself, she expects it to be an exciting and emotional day.
"Through my research at Kean, and the opportunities provided to me through the Governor's STEM Scholars program, I have seen numerous experiences and research paths that are examples of projects I would like to become part of," she said. "I finally saw what others saw in me. I want to work in an industry where I make a difference, be it working with alternative algae biofuels, or helping to cure cancer. I know I am a scientist."