Kean Students Land Top Awards at Research Conference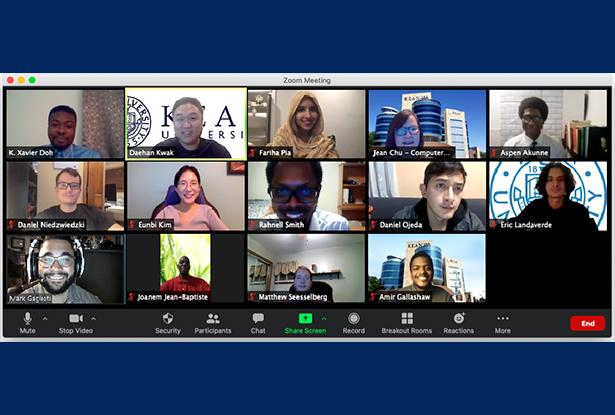 Two Kean students took home first-place honors in the recent Great Minds in STEM (GMiS) competition for their research projects visualizing COVID-19's impact on New York City traffic, and showing how to turn a home voice assistant into a study tool.
A total of 14 students and 13 projects from the Kean School of Computer Science and Technology were accepted to present at the prestigious competition, held virtually this year.
K. Xavier Doh, a senior majoring in computer science, received top honors in the conceptual research category. He researched the impact of the COVID-19 pandemic on traffic accidents to analyze and develop data for truck drivers and others to use.
Farahi Pia, a sophomore information technology major, won in the research poster category. She researched integrating online flashcards into a Google Home virtual voice assistant through an app. The idea is to help students study by using a home assistant to ask flashcard questions.
Kean President Lamont O. Repollet, Ed.D., said the students' success at the GMiS conference demonstrates the University's commitment to research.
"The research that students conduct with faculty in our classrooms and laboratories is a key component of a Kean University education and at the core of our plan to become the next world-class research institution in New Jersey," Repollet said. "I congratulate the students and their advisors on this national recognition."
The GMiS, in its 32nd year, was held in early October. This is the first time Kean received two first-place awards, which include monetary prizes.
"It's a very important national conference," said Daehan Kwak, Ph.D., an assistant professor in the School of Computer Science and Technology who advised the students. "It is also a great career fair. There are many opportunities students get from taking part in conference events."
The competition drew student submissions from a number of other universities across the nation, including Stanford University, The George Washington University and the University of Southern California.
"The conference focused on bringing together students who aspire to increase in research," said Jean Chu, Ph.D., a lecturer and research mentor in the School of Computer Science and Technology who co-advised four of the research projects. "It provides many opportunities to network, share research ideas, and support conversations on providing leadership and career development opportunities for STEM college students."
Several Kean students interviewed for possible internships with major companies.
Doh, from Union, immigrated five years ago from the West African nation of Togo. He said the idea to research COVID-19's impact on traffic grew out of a project using a GPS navigator he created, with Kwak as an advisor, in the spring.
"We were brainstorming for a second research project, and we observed how traffic decreased significantly in New York City throughout the lockdown period," Doh said. "We decided to study the correlation between the pandemic and the number of accidents."
After graduation, he said he would like to continue graduate studies and research.
Pia, of Elizabeth, said she came up with her idea during quarantine, when she found it difficult to study without a study group or someone to quiz her. A former education major, she said in the future she wants to develop an app called StudyBuddy based on her idea.
"I would love to combine my passion for teaching and education by building better technology tools for students," she said.
In addition to Doh and Pia, the presenting students were Aspen Akunne, Stacy Fortes, Mark Gaglioti, Amir Gallashaw, Peter Hannon, Eric Landaverde, Daniel Niedzwiedzki, Daniel Ojeda, Rahnell Smith, Joanem Jean-Baptiste, Eunbi Kim (M.S. student), Matthew Seesselberg (M.S. student.
For more information on the competition, visit https://www.gmisconference.org/rpc.html.
For more information about Kean's computer science and technology programs, visit the School of Computer Science and Technology website.
Tagged