Kean Students Learn About Living the 'Pura Vida' in Costa Rica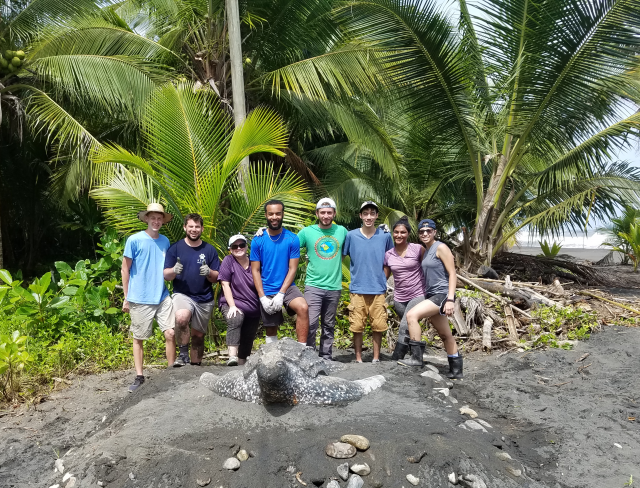 Seven Kean University students spent part of their winter recess in Costa Rica, working at a nesting spot for endangered sea turtles and learning about conservation, sustainability and economic development.
The students were part of a weeklong Human Rights Institute at Kean University Learning Community service project, funded by a University Quality First Initiative grant. A record amount — more than $275,000 in grant money — was awarded to nine projects for this academic year.
Shivani Sankar, a senior environmental biology major from Jackson, said their local guide at the Gandoca Manzanillo National Wildlife Refuge instructed them on the full meaning of the Costa Rica motto, "Pura Vida," which goes beyond the simple translation, pure life.
"We learned ecological lessons about plants and animals and their connections to the regions we were in," she said. "We learned, harvested and ate organic foods grown in a community garden that feeds hundreds of people. Most importantly, we learned that you don't need to be rich or glued to superficial things such as the internet or television in order to live your best life."
The students and their faculty advisor, Lauretta Farrell, D.Litt., director of Kean's Human Rights Institute, helped restore a 500-pound concrete monument dedicated to leatherback sea turtles while working at a nesting place for the endangered species.
"The statue was so heavy, it took nearly 10 of us to move it with a rope," said Patrick Krudop, a freshman geo-science major from Rockaway who was on the trip. "We did everything without the use of power tools."
Farrell said the study abroad experience brought Kean students from a variety of academic programs together to put into practice what they are learning in the classroom.
"Costa Rica leads the world in sustainable development practices, and students in our
sustainability programs were able to see this first hand," she said. "Two of our participants were architecture majors. Through the monument restoration project, they learned the impact of memorializing culture on local communities."
For Krudop and the other students, the trip was life changing.
"This trip definitely influenced how I see the world. The Earth is so diverse and abundant with life, and the same is true with culture, people, food and every aspect of society," he said.
The trip was fully funded by the QFI grant at no cost to the students.
"By making this trip available to students at no cost, it enabled some who might not otherwise have had the resources necessary to travel internationally to have this important educational experience," said Farrell.
Sankar said she came away with an appreciation for her University.
"I used to believe Kean was just a place where we can get a degree, but it has shown me that it truly does care about its students," she said.
The Human Rights Institute Learning Community has another service-learning project planned for May — a trip to Puerto Rico to study the impact of natural disaster on hunger and food insecurity.