Kean Students Open Hearts to Those Less Fortunate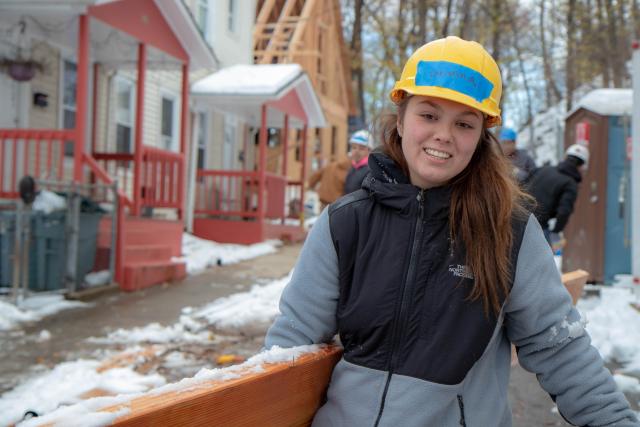 The season of giving has taken hold at Kean University as Thanksgiving approaches, with Kean students, staff and faculty lending their hands and hearts to help improve the lives of others.
The Kean community kicked its spirit of giving into high gear this fall, building homes with Habitat for Humanity; collecting food and clothing for those in need; packing food for food pantries and soup kitchens; making sandwiches for The Elizabeth Coalition, an organization that battles homelessness; and crafting small red kettle bell souvenirs for the Salvation Army to distribute as a reminder to donate to struggling families and individuals this time of year.
"Kean students are always giving, especially during the holiday season," said Susan Figueroa, managing assistant director for community service and civic engagement for the Center for Leadership and Service (CLS). "This may be by doing community service, donating or creating awareness. During the holiday season, this all picks up. Students are engaged and ready to help others."
Beginning in the last week of October and stretching into November, CLS has hosted a food and clothing drive to raise awareness and support for Hunger and Homelessness Week. As part of the effort to combat homelessness, students volunteered at a Habitat for Humanity construction project in Dover, Morris County.
"As a public university, we recognize and emphasize the importance of giving back to our local communities," said Natalie Siedhof, CLS coordinator for community engagement. "Each November, we participate in the national Hunger and Homelessness Awareness Week and provide both educational awareness activities and service opportunities for students that draw attention to poverty-related issues and highlight ways our students can get involved. The support and activism of the entire campus community – from our student groups, athletic teams, faculty and staff, and students in general are extremely positive and inspiring."
The Human Rights Institute (HRI) at Kean is also working to remind students and members of the community about the issue of hunger. HRI's annual conference, Hunger and the Politics of Food, will be held in March 2019. To prepare for it, the Institute is partnering with local, regional and global non-governmental organizations to host five conversations about hunger, known as Food for Thought. Each program is designed to engage 50 to 100 people around a specific topic related to hunger.
"The number of people worldwide engaged in a daily war against hunger is staggering, nearly 1.7 billion people. I believe that a lack of adequate, nutritious food is the most basic human rights violation in the world today," said Laurette A. Farrell, D.Litt., HRI director. "That is why the Human Rights Institute has chosen to shine a light on hunger and food insecurity, and teach our students and colleagues what they can do to help end hunger in our lifetime."
Hunger awareness activities will continue after Thanksgiving. Kean students will participate in Hunger and Conflict: 60 Minutes Goes to Darfur on November 29 at 4:30 p.m. in the North Avenue Academic Building auditorium. John Prendergast, founder of The Enough Project and the Anne Evans Estabrook senior human rights fellow at Kean; and Nicole Smith, producer for 60 Minutes, will discuss humanitarian intervention in South Sudan.
On the same day, Kean will host the Stand Campaign, an awareness campaign drawing attention to the societal issues of hunger and homelessness. Across campus from 3 to 5 p.m., students will create and hold signs to stand-in and stand-up for those who are less fortunate.