Kean Trustees Chair Steve Fastook Honored at 44th Annual News & Documentary Emmy Awards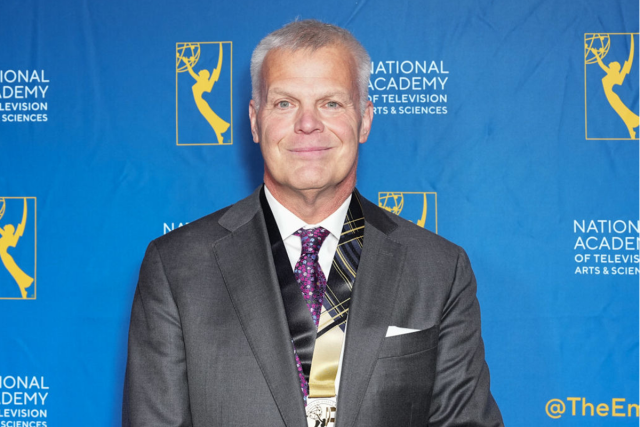 Steve Fastook 'H06, chair of the Kean University Board of Trustees, has been inducted into the National Academy of Television Arts & Sciences (NATAS) prestigious Gold and Silver Circle, an honor society for the television industry.
Fastook, a multiple Emmy winner who is the senior vice president of operations for CNBC, is a 2023 Silver Circle News Inductee. The Silver Circle recognizes professionals who have performed distinguished service within the television industry for 25 years or more. 
He was recognized along with Dan Rather, John Quinones, CBS News national correspondent David Martin and other news and documentary luminaries as part of the NATAS Gold and Silver Circle. 
"I am pleased to congratulate Steve Fastook on this honor," said Kean University President Lamont O. Repollet, Ed.D. "Steve is a key member of the Kean community. He sets an example with his professional accomplishments and displays warmth and leadership, whether it be guiding our Board of Trustees, addressing our graduates at Commencement or joining us for campus events. We are proud to count Steve Fastook as a Kean Cougar."
The inductees were honored at the 44th annual News & Documentary Emmy Awards in New York City.
Fastook is a longtime supporter of the University, having served on the Board of Trustees since 2017 and on the Kean University Foundation board since 2006. He became chair of the Board of Trustees in 2021 and is also currently an ex-officio, non-voting member of the Kean University Foundation board.
Fastook also chaired the University's Presidential Search Committee.
Bill Miller, chief executive officer of the Kean University Foundation, said Fastook's professional experience helped him as the previous chair of the Foundation board.
"Steve is a tremendous leader for Kean," Miller said. "He works hard to support our students in so many ways, and we are thrilled to see him recognized with this national award. He is a role model for Kean students and a strong advocate for the University."
During his career, Fastook, who resides in Nutley, has held positions in news, entertainment and technical operations, and created the first-ever totally digital process at CNBC.
Inductees who receive Gold & Silver Circle honors are exceptional professionals who have performed distinguished service within the television industry, setting standards for achievement, mentoring, leadership and professional accolades. 
"This year's Gold & Silver honorees are recognized for their phenomenal and continuing contributions to our television industry," said Adam Sharp, president and CEO, NATAS. "Their persistent excellence of craft has enabled viewers to be better informed about the issues of the day, even as the character of the news cycle has evolved so markedly over the storied course of their careers." 
NATAS is a service organization dedicated to the advancement of the arts and sciences of television and the promotion of creative leadership for artistic, educational and technical achievements within the industry. It presents the Emmy Awards for News & Documentary, Sports, Daytime, and Children's & Family programming, as well as achievements in television Technology & Engineering.