Kean University Field Hockey Coach Leslie LaFronz Named NJAC Coach of the Year
FOR IMMEDIATE RELEASE: November 30, 2016
Kean University Field Hockey Coach Leslie LaFronz Named NJAC Coach of the Year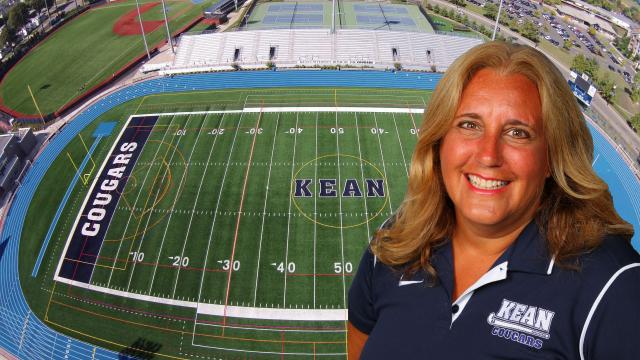 UNION, N.J. – Kean University field hockey Head Coach Leslie LaFronz of Demarest, N.J., was named New Jersey Athletic Conference (NJAC) Coach of the Year. Now in her eighth year at the helm of Kean's field hockey team, LaFronz led the Kean Cougars to an impressive 16-2 regular season record this year and a berth in the Eastern College Athletic Conference (ECAC) Tournament via a 4-2 record in league play.
"Anytime one of us receives an honor, it is always a team award," said LaFronz. "My players and staff have been working exceptionally hard to turn Kean University's field hockey team into a nationally ranked program. To be voted for this recognition by the other coaches in the Conference is especially meaningful."
LaFronz is the first coach in Kean Athletics history to earn the NJAC Coach of the Year title in more than 22 years. Head Softball Coach Renee Clark earned the title in 1994.
"Coach LaFronz knows our team's full potential and what we are capable of, so she encourages us every day to exceed that limit when we step onto the field," said student-athlete Krista LaMaina, a forward on LaFronz' field hockey team.
LaFronz has won 97 games in her eight-season career at Kean, recently adding two of those wins to her scorecard during the 2016 ECAC tournament games against Manhattanville College and FDU-Florham.
"At Kean, we have every opportunity to excel, so we try to improve every day so we keep moving forward in the direction of our next goal," said LaFronz about her journey as a coach. "It has taken several years and many great student-athletes to reach this level of success. Today, as we say every day, it's a great day to be a Cougar."
PHOTO CAPTION:
Kean University Field Hockey Coach Leslie LaFronz of Demarest, N.J., was named the 2016 New Jersey Athletic Conference Coach of the Year.
ABOUT KEAN UNIVERSITY
Founded in 1855, Kean University has become one of the largest metropolitan institutions of higher education in the region, with a richly diverse student, faculty and staff population. Kean continues to play a key role in the training of teachers and is a hub of educational, technological and cultural enrichment serving nearly 15,000 students. The University's six undergraduate colleges offer 50 undergraduate degrees over a full range of academic subjects. The Nathan Weiss Graduate College offers four doctorate degree programs and more than 60 options for graduate study leading to master's degrees, professional diplomas or certifications. With campuses in Union and Toms River, New Jersey, and Wenzhou, China, Kean University furthers its mission by providing an affordable, accessible and world-class education. Visit www.kean.edu.
###
Millie Gonzalez
Media Relations Specialist
Kean University
mgonzale@kean.edu | 908-737-0586