Kean University Invites Community to Hispanic Heritage Town Hall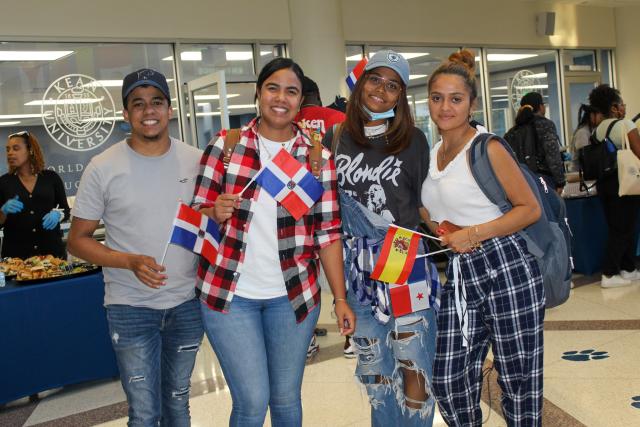 Kean University will host a Hispanic Heritage Town Hall on Wednesday, September 21, featuring a keynote address by New Jersey Senate Majority Leader Teresa Ruiz on the theme Honoring our Roots, and Building Tomorrow's Success.
Union County Commissioner Sergio Granados, '10,'16 MPA, will serve as Master of Ceremonies and Diana Vasquez, the director of National Internship Programs & Strategic Initiatives for the Hispanic Association of Colleges and Universities (HACU), will discuss internships and job opportunities made possible through HACU's National Internship Program. 
The public and media are invited to attend the event, which takes place from 10 a.m. to 1 p.m. at Miron Student Center, on the Kean University campus. To register, visit https://forms.gle/F3gj3VE3tjTTffNE9.
"At Kean University, our goal is to help every student graduate and achieve success. We are especially in tune to the needs of our Hispanic and Latinx student population, who make up more than one-third of students on our Kean USA campuses," Kean President Lamont O. Repollet, Ed.D. said. "We are extremely pleased to welcome Senator Ruiz, Director Vasquez and Commissioner Granados for this important event. They are important role models for all of our students."
Kean Senior Vice President for Entrepreneurial Education Initiatives Sancha K. Gray, Ed.D., will give welcome remarks on behalf of Repollet at the Town Hall.
Kean University is holding the Hispanic Heritage Town Hall as the University marks Hispanic Heritage Month, which began September 15. Kean has long prided itself on its commitment to its diverse student body, and offers numerous programs supporting students from Hispanic and Latinx backgrounds. The University is also one of 551 Hispanic-Serving Institutions designated in the United States.
Repollet created the Kean Office of Diversity, Equity and Inclusion (DEI) to develop campuswide policies and procedures that embody the spirit of diversity and inclusion, while providing comprehensive and collaborative resources to support educational and Universitywide initiatives. 
"Events such as the Hispanic Heritage Town Hall play a valuable part in sharing information and insight, as well as raising the profile on campus of the Latinx and Hispanic community," said Executive Director of Diversity, Equity and Inclusion Tamika Quick, Ed.D.  
Ruiz became the first Puerto Rican elected to the New Jersey Senate when she was elected in 2007. The first Latina to serve in leadership, also chair of the Senate Education Committee, she has fought for equity in educational spaces, sponsored laws to increase diversity within school curriculum, and focused on expanding employment opportunities for underserved communities.
Vasquez is a director at the Hispanic Association of Colleges and Universities, which represents more than 500 colleges and universities in the United States, Latin America and Spain, including Kean University. It is the only national association representing existing and emerging Hispanic-Serving Institutions. 
Granados, a native of Elizabeth, earned both his bachelor's and master's degrees at Kean. He has been instrumental in numerous initiatives supporting diversity, equality, inclusion and the environment, and he created the first Union County Hispanic Heritage Month Celebration in October, 2018.
Tagged