Kean University Music Conservatory to Offer Prestigious Augustine Foundation Classical Guitar Scholarship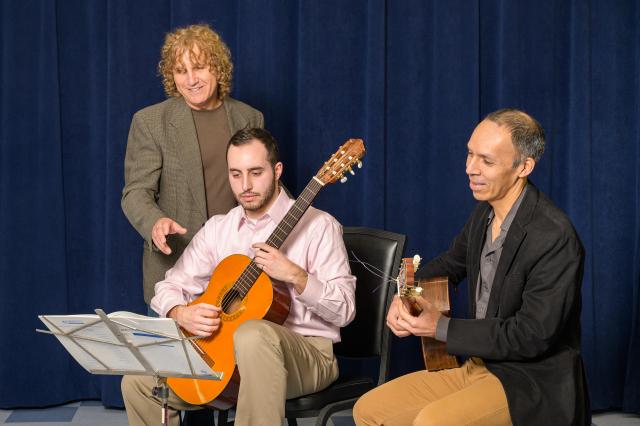 Kean University has joined the ranks of world-renowned colleges and schools of music in offering a music scholarship supported by the prestigious Augustine Foundation. 
VIDEO: More on the Kean University Augustine Foundation Classical Guitar Scholarship
The Augustine Foundation Classical Guitar Scholarship will be awarded competitively to a promising young classical guitarist — an incoming freshman in Kean's Music Conservatory — for the academic year starting in Fall 2020. It will cover full in-state tuition and fees, and provide a stipend for books and academic supplies and funding toward a showcase performance by the recipient.
The Augustine Foundation is a significant supporter of the classical guitar through scholarship funding at institutions such as The Juilliard School and funding for classical guitar concert series at the 92nd Street Y and the Manhattan School of Music in New York City.
The proposal was developed and submitted by Jorge Caballero, a Kean adjunct professor and concert artist in classical guitar, and Matthew Halper, DMA, a professor of music in the Music Conservatory.
"We are thrilled that an organization of the stature of the Augustine Foundation has acknowledged the quality of classical guitar instruction at Kean," Halper said. "In the hands of our internationally recognized studio faculty such as Jorge Caballero, a meritorious and fortunate student will be given a singular opportunity to develop as a guitarist."
Kean is actively recruiting applicants for the scholarship, which will be administered by the Kean University Foundation. Halper and Caballero have conducted outreach events at high schools with well-established classical guitar programs such as Newark Arts High School and Thomas Jefferson Arts Academy in Elizabeth.
"We have observed a need for academic support for many of the talented guitarists we have worked with during our visits to the local high schools," Caballero said.
Classical guitar students seeking to further their studies at Kean University should contact Matthew Halper, DMA, at music@kean.edu for more information about the scholarship and the Kean Music Conservatory.
The Augustine Foundation was established in 1980 through a donation from Rose Augustine of Albert Augustine, Ltd. Her husband Albert Augustine is credited as being the developer of the modern nylon guitar string.