Kean University Named a College of Distinction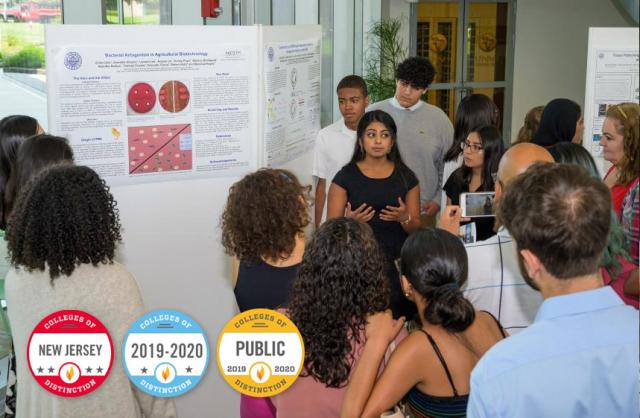 Kean University has received national recognition as a College of Distinction for its focus on student success and the outstanding classroom experience it provides to undergraduates.
Unique among popular college guide classifications, the national Colleges of Distinction ranking singles out schools based on excellence in teaching, high-impact practices, and student success and satisfaction.

Kean was recognized for providing excellence across 50 undergraduate degree programs and student-focused offerings such as 160-plus student clubs and organizations; a wealth of undergraduate research opportunities; diversity and global learning programs; study abroad programs; and internship experiences.
"Colleges of Distinction recognizes academic institutions that add to the rich diversity of higher education in America and that see each student as a vital part of campus," said Marsha McCarthy, vice president for enrollment services at Kean. "Kean University is committed to treating students as valuable members of a diverse community. The unique experiences we offer at Kean embody the University's mission to dedicate itself to the intellectual, cultural and personal growth of all its members — students, faculty and professional staff."
Kean Provost and Vice President for Research and Faculty Jeffrey H. Toney, Ph.D., said student research, engagement and creative activities are an important part of undergraduate study at Kean, and are critical for success. Last year, 1,100 student researchers presented projects at the University's 11th annual Research Days, he said. More than 90 percent of first-time, full-time freshmen who have participated in Kean's Research Days have graduated within five years, and many have gone on to present research at major professional meetings; publish work as co-authors with faculty; and attend graduate programs at some of the nation's most distinguished universities.
"Kean offers many opportunities for students to conduct faculty-mentored research, from a Research Recruits program that introduces undergraduate students with no prior experience to research, to intensive summer programs and grant-funded programs," he said. "This is a key part of a student's education and success at Kean."
The Colleges of Distinction selection process consists of detailed interviews and research on each institution's freshman experience and retention efforts, general education programs, career development, strategic plan, student satisfaction and more. Schools are accepted on the basis that they adhere to the "Four Distinctions" — engaged students, great teaching, vibrant community and successful outcomes.
"We are proud to see Kean University walking the walk," said Tyson Schritter, chief operating officer for Colleges of Distinction. "We know that every student is different in what they need to best learn, grow and succeed, and we value schools that embrace those differences. Kean University puts the student experience first."
The Colleges of Distinction website and guidebook have honored schools throughout the U.S. for their excellence in undergraduate-focused higher education since 2000.
Kean has also received other accolades recently, including recognition as a Top Performer for Social Mobility from U.S. News and World Report; and ranking among 100 schools in the nation with skyrocketing applications. McCarthy said it is gratifying to see the University's dedication to providing a world-class education achieving results. 
"Kean's recognition for helping economically disadvantaged students enroll and graduate within six years is a true testament of the University's dedication to providing a world-class and affordable degree," she said.