Kean University Opens New Veteran Services Lounge
FOR IMMEDIATE RELEASE: November 22, 2016
Kean University Opens New Veteran Services Lounge
Union, N.J. - Kean University held a moving Veterans Day ceremony and officially opened the University's new Veteran Services Lounge on Friday, November 11. The event paid tribute to current and former servicemen and women and ended with a ribbon-cutting ceremony at the veterans lounge in Willis Hall, where former military personnel can gather to study, hang out, hold meetings and receive tutoring and other support services.
"This is part of our vision moving forward for what constitutes veterans' affairs at Kean University," said Sophia Howlett, Ph.D., Kean's associate vice president for learning support, who performed the ribbon cutting. "We want to think about veterans who come to Kean and make sure we're creating a holistic environment for them."
Kean's Veteran Services Lounge is a relaxing environment for the University's more than 300 student-veterans. With computers, tables, chairs and a television, it is designed to be a place where veterans can share life experiences and support each other. The lounge is also where the University's Military and Veterans Club (MVC) will hold workshops and conferences. Located in Willis Hall room 121, the hours of operation are Monday 12 – 5 p.m., Tuesday 9 a.m. – 2 p.m. and Thursday 12 – 5 p.m.
"The objective of the veterans lounge is to help people transition from the military to civilian life; however it's also there to help us succeed academically," said U.S. Army Specialist Kimmarah Casey, MVC president. "You don't know the person who's sitting in the corner? You could just start up a conversation because as a military member to another military member, you always share that camaraderie. It's a connection we all have."
The lounge opened after Kean's traditional Veterans Day ceremony, hosted by the MVC and led by former U.S. Marine and current Kean student Elio Bustamante. Airman Darin Smith, also a Kean student, performed Amazing Grace, The Star-Spangled Banner and God Bless America.
Also speaking at the ceremony was Col. Domenick Garzone, a Nathan Weiss Graduate College doctoral student in the field of educational leadership who retired after 33 years of service in the U.S. Army. Garzone gave an emotional speech about the military and Veterans Day.
"A veteran is someone who, at one point, wrote a blank check made payable to the United States of America for any amount, up to and including their life," said Garzone. "The price of freedom, my friends, is not free. If you are living in a free society, thank a veteran. They are the ones who signed that blank check."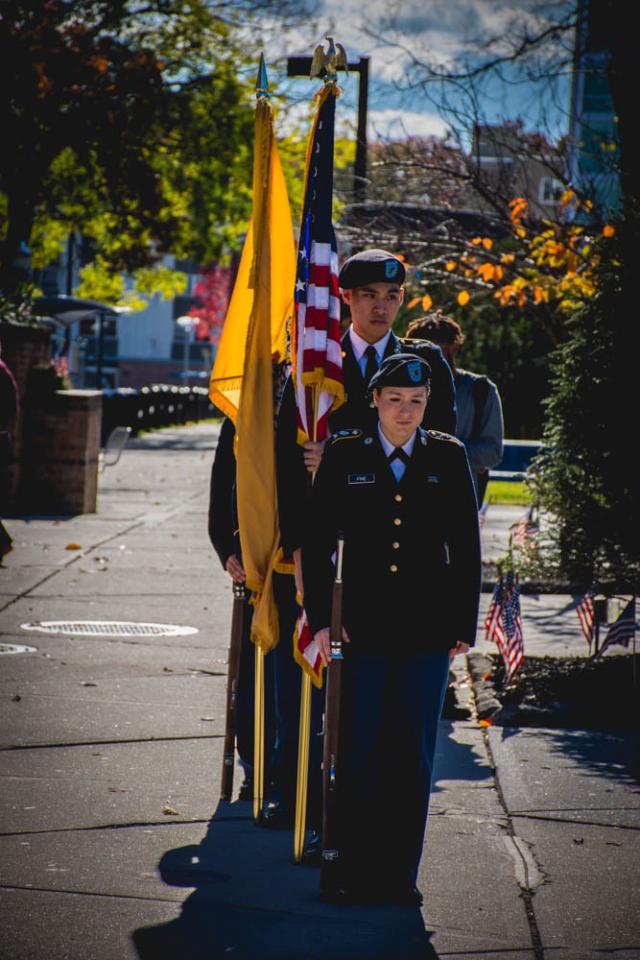 Photo/Caption: After a Veterans Day ceremony on November 11, Kean University opened its new Veteran Services Lounge, where student-veterans can meet and receive support services.
ABOUT KEAN UNIVERSITY
Founded in 1855, Kean University has become one of the largest metropolitan institutions of higher education in the region, with a richly diverse student, faculty and staff population. Kean continues to play a key role in the training of teachers and is a hub of educational, technological and cultural enrichment serving nearly 15,000 students. The University's six undergraduate colleges offer 50 undergraduate degrees over a full range of academic subjects. The Nathan Weiss Graduate College offers four doctorate degree programs and more than 60 options for graduate study leading to master's degrees, professional diplomas or certifications. With campuses in Union and Toms River, New Jersey, and Wenzhou, China, Kean University furthers its mission by providing an affordable, accessible and world-class education. Visit www.kean.edu.
Media Contact:
Margaret McCorry
Director of Media Relations, Kean University
mmccorry@kean.edu | 908-737-0583
Tagged