Kean University Partners in Roundtable Supporting Small Businesses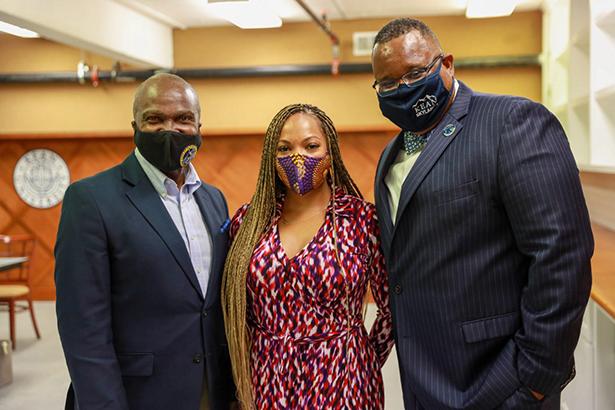 Kean University joined forces with the City of Plainfield and state economic development leaders on a Small Business Roundtable to aid small business owners as they recover from the pandemic.
Speakers from the Small Business Development Center (SBDC) at Kean University, the New Jersey Economic Development Authority and other organizations shared insight about loans, grants, technical support and fee waivers among other tools available to help small business owners.
"As we all move away from the limitations imposed on us by the pandemic, it is important to encourage businesses to once again be able to operate and thrive," said Kean President Lamont O. Repollet, Ed.D. "Kean will provide technical resources and assistance to aid small businesses in their recovery." 
Repollet led the panel along with Plainfield Mayor Adrian Mapp and Tara Dowdell, founder and CEO of the Tara Dowdell Group. 
The roundtable took place at the Landmark Developers' Culinary School in Plainfield. Also attending were numerous business owners from the city, including restaurant owners, landlords, a bus company owner and the proprietor of a newly-opened cigar store.
"Small businesses are the fuel that powers the economy. It is because of you that the community does so well," Mapp said.
Dave Margulies, regional director of the SBDC, which is located at Kean, spoke about ways his agency can help. He noted that more than 90% of businesses in the United States are small businesses, and those small firms employ more than half of the country's workers.
"We help small businesses grow their businesses. Look at us as your business mentor," Margulies said. "As we exit this pandemic, I applaud you all and hope to help you grow your business. The biggest takeaway from today is, you are not alone."
One of the newest business owners at the table was Yenibel Morales, who in March opened a cigar store in Plainfield, called Rose Cigar. She said the business is going well, and she was thankful to be included in the event.
"I need every single one of you," she said.
Sneh Kadakia and her business partner, Scott Sussman, who in June are opening a shared work space in Plainfield called From Here, said they also valued the chance to learn about the resources available and network with other business owners.
"The ability to have help here makes a difference and breaks down so many barriers," Kadakia said.