Kean Volunteers Join Union County Emergency Food Distribution Effort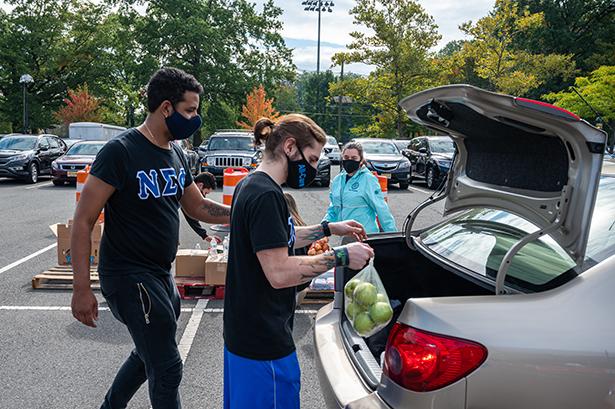 Kean students are supporting local families struggling with food insecurity during the COVID-19 pandemic by volunteering at Union County food distribution events throughout the Fall semester.
In a community partnership with the county, more than two dozen students volunteered on Saturday at an emergency food distribution site in the Vaughn-Eames parking lot. Students will continue to volunteer at the campus location as well as at Cedar Brook Park in Plainfield.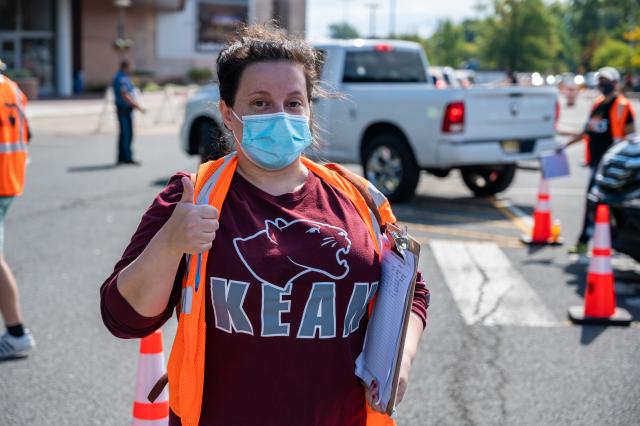 "The experience was so very humbling and rewarding," said Nives Migliaccio of Springfield, a graduate student in the writing studies program. "We helped over 1,000 families that day. I feel like a proud Kean cougar, and everyone involved was very kind and really cared deeply about their fellow citizens who are in need. I can't wait to volunteer next time!"
On Saturday, the volunteers offered curbside service, depositing bags of produce from the Community FoodBank of New Jersey into the trunks of cars at the drive-through event.
"Kean prides itself on preparing our students to become active, contributing members of their communities, and this is clearly evidenced by the commitment from our students to this important program," said Kean President Lamont O. Repollet, Ed.D.
Kean is currently the site of the county's drive-through COVID testing program.
"We continue to work to ensure that our residents receive the necessary resources to support them during this time as they face unprecedented levels of unemployment, housing issues and food insecurity," said Union County Freeholder Sergio Granados '10, '16 MPA. "We thank the Community FoodBank of New Jersey and volunteers involved in coordinating this effort."
"The distributions have been a lifeline to many of our residents affected by the COVID-19 pandemic," Freeholder Chairman Alexander Mirabella said.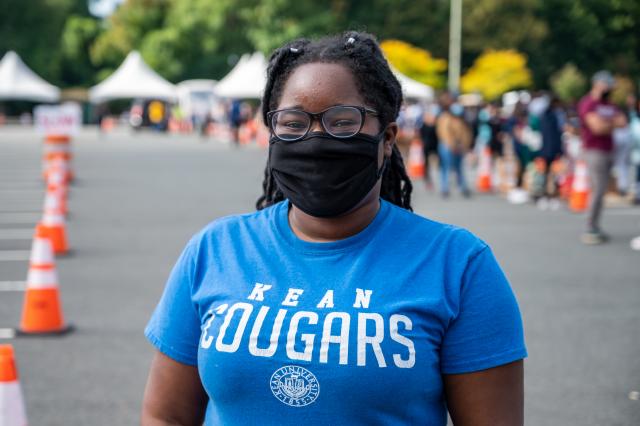 Senior criminal justice and psychology major Danielle J. Olistin of Woodbridge said she volunteered to give back to her community.
"Food is one of the main necessities in life, and it's awful to know that not everyone can afford to have the bare necessities in their households especially during this pandemic," she said. "If the service act is small or large, all types of volunteerism makes a difference in changing the lives of citizens in our community. All it takes is one person to begin the change."
Offering students an opportunity to participate in community service is a vital part of a Kean education. Kean students volunteer between 60,000-70,000 hours per year, according to Acting Vice President for Student Affairs Matthew Caruso. 
"We often hear from students that this is the most rewarding work they have ever performed," he said. "This kind of real-world experience is invaluable to our students' development and both their personal and professional growth."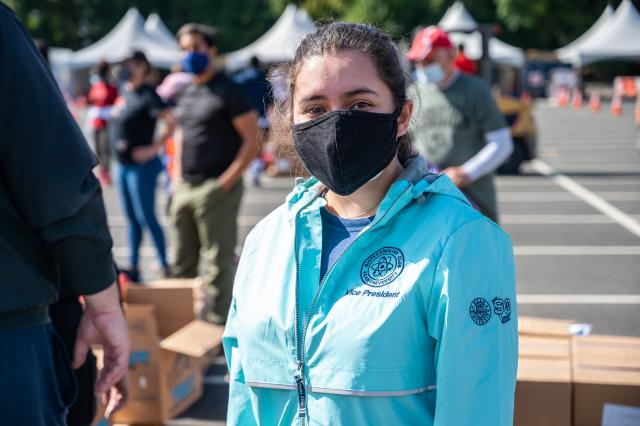 Alyssa Ramirez, a senior biomedicine major from Somerset, said she will volunteer again at a county food distribution site.
"It is a safe and great way to give back to the community especially with so many families affected by COVID-19," she said. "Kean provides us with various ways to volunteer, and there are a lot of students eager to help the community in any way possible."
For more information, including the schedule for emergency food distribution events, visit ucnj.org/covid19/food-distribution-events/.