Kean VP Barbara George Johnson Named to 2021 Women's Power List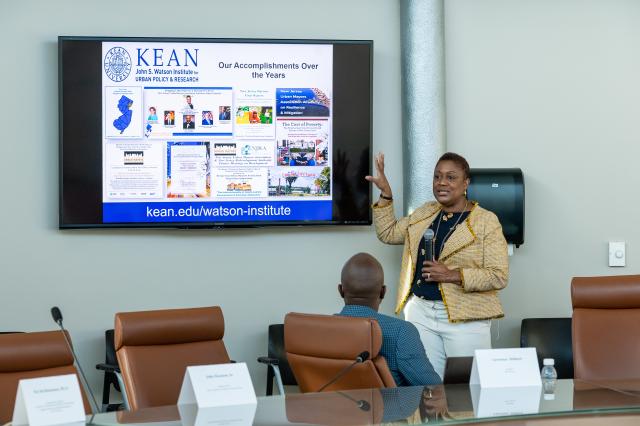 Barbara George Johnson, vice president of external affairs and urban policy and research at Kean University, has been named to New Jersey Senate Majority Leader Loretta Weinberg's 2021 Women's Power List. Johnson is recognized for her outstanding leadership and work on public policy, education and social disparities of health. 
"Barbara George Johnson has earned this recognition as a powerhouse advocate for women and children in New Jersey," said Kean President Lamont O. Repollet, Ed.D. "We are fortunate to have her at Kean's Watson Institute for Urban Policy and Research where her advocacy and influence make a positive difference throughout the state."
Johnson has committed her professional career and volunteerism to ensuring the advancement of policies that improve the trajectory of health outcomes for women and children, with a focus on African-American mothers and infants in New Jersey. 
"I am truly honored to be recognized by Senator Weinberg as a woman who is making a difference in New Jersey," Johnson said. "I have been blessed to be able to work on issues and help to create solutions that benefit the most vulnerable residents in our state. At the Watson Institute, I will continue to work with the great women leaders of the state, as well as others, to make a positive impact on the lives of those who call New Jersey home." 
Earlier this fall, Johnson earned a spot on the 2021 NJBIZ Top 50 in Education alongside Repollet. She was also appointed by President Biden as a member of the Board of Trustees of the Barry Goldwater Scholarship and Excellence in Education Foundation, which provides scholarships to college sophomores and juniors to pursue research careers in the natural sciences, mathematics and engineering.
Johnson has more than 30 years of experience as a public policy professional in New Jersey and has shaped economic, health and social policy in the state. She has worked with the Robert Wood Johnson Foundation Partnership for Healthy Kids to reduce childhood obesity, on initiatives that promote health policies, and more.