KEANetwork, Offering a Discounted Kean Degree, Expands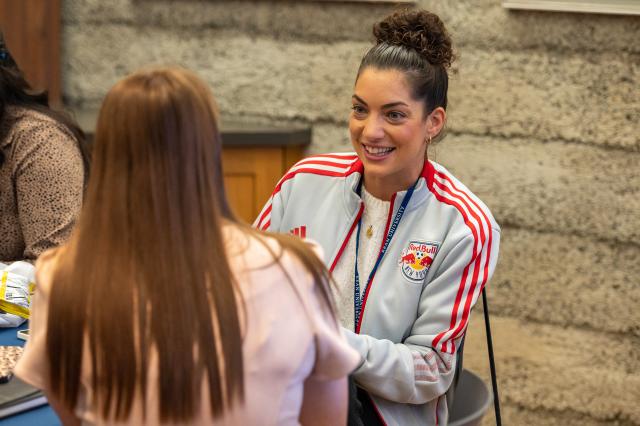 The Kean Educational Affiliation Network (KEANetwork) is now working with more business, government and nonprofit partners to offer a reduced-cost Kean University education to their employees and active members.
The program has expanded to more than 50 partners, including the New York Red Bulls, the latest to make the attractive new benefit available to its employees. 
"KEANetwork makes a Kean University education accessible to more people who want to complete their college degrees or further their careers with graduate degrees," said Kean University President Lamont O. Repollet, Ed.D. "As New Jersey's urban research university, Kean is dedicated to having a positive impact in our communities and our state, and KEANetwork is a powerful way for us to do that."
Enrollment in KEANetwork has climbed steadily since the program began several years ago. Latest data shows a 10% increase in student enrollment between the Fall 2022 and Spring 2023 semesters, and a 30% increase in the number of partners. 
The benefits provided through KEANetwork include:
Up to 10% tuition discount to pursue a degree on campus
Up to 20% discount to pursue an online degree program
No-fee application
A designated personal enrollment counselor
Jay O'Callaghan, vice president for transformational learning at Kean, called KEANetwork a win for all involved. 
"It's a win for employers because our program helps them attract and retain employees in a competitive job market. It gives employees the chance to complete their degree, or earn their MBA or another advanced degree, at a discount," he said. "And it's a bonus to Kean because it expands both the number and the diversity of students we attract."
The latest collaboration with the New York Red Bulls builds on an existing partnership between the team and the University, started last year, that gives Kean students access to internships and other opportunities. 
Jordan Schwartz, manager of marketing partnerships for the Red Bulls, called KEANetwork "a great opportunity to expand upon our partnership in a mutually beneficial way."
Schwartz says the program is being rolled out to the Major League Soccer team's 170 employees.
"We think employees will be interested in this opportunity," he said. "This is a great benefit for those interested in pursuing further education, especially at a well-respected institution right in our backyard."
Public health student Suad Rahman, of Hillsborough, is using KEANetwork to complete her degree. Rahman, a phlebotomist with Hunterdon Healthcare, began college as a criminal justice major at Kean a decade ago, but left before earning her degree.
Rahman said she is completing her degree online and plans to go on to nursing school.
"My employer's website includes various ways to help you with education, and I saw Kean was included. I started researching, called KEANetwork and learned about the discount. That's why I went on with Kean," she said.
"I told a few coworkers, and now they're planning to apply," she added.
Also among KEANetwork's partners are FedEx Ground, UPS, Horizon Blue Cross Blue Shield of New Jersey, the Linden, Cranford and Scotch Plains-Fanwood school districts, the County of Union, the New Jersey State Policemen's Benevolent Association, Kindercare, RWJ Barnabas Health and others.
For more information, visit KEANetwork.
Tagged