Kean's Best and Brightest Celebrated at Honors Convocation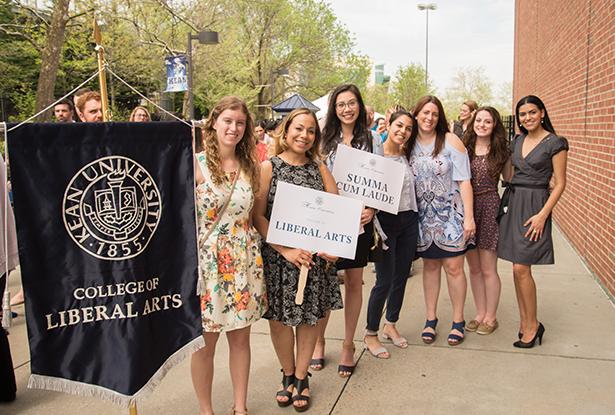 In front of an enthusiastic crowd of family, friends and supporters, Kean University recognized nearly 950 seniors who will graduate with honors as part of the Class of 2018 at the Senior Honors Convocation on Friday, May 4 at Harwood Arena.
"We are proud of you, and your families are proud of you," said Kean University President Dawood Farahi, Ph.D. "What you learned here, no one can take away. You are going to work hard – I have no doubt that you know how to do that – and you will achieve whatever you choose to achieve."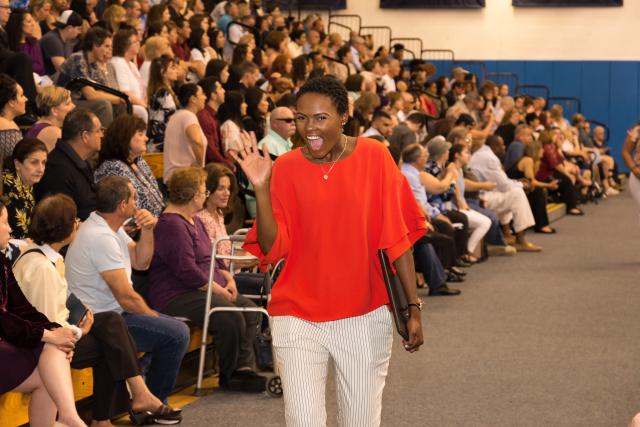 Students graduating summa cum laude achieved a grade-point average of 3.85 or higher, those graduating magna cum laude achieved a grade-point average of 3.65 to 3.84, and those graduating cum laude achieved a grade-point average of 3.45 to 3.64.
Keynote Speaker Jeremy Richman, Ph.D., is a neuroscientist who lost his six-year-old daughter Avielle in the 2012 Sandy Hook Elementary School shooting in Newtown, Connecticut. Richman and his wife, also a scientist, created the Avielle Foundation in her name to conduct brain research to study ways to reduce violence and build compassion.
"I am here to hopefully inspire you and the world to move forward," said Richman. "We each have the responsibility to decide if we will wear the white hat or the black hat, champion good or evil."
Calling the honors graduates the "distinguished smarty-pants in the world," Richman urged them to develop four skills to make the world a better place – storytelling and sharing their vulnerabilities; listening to others; daring to imagine; and taking action.
"I hope to compel you today to shape your story and shape the human story," he said. "The world is in your hands. Take this responsibility to heart to help guide us to recognize that to be human, we must strive to be humane. Go change the world with your epic stories and infinite imaginations."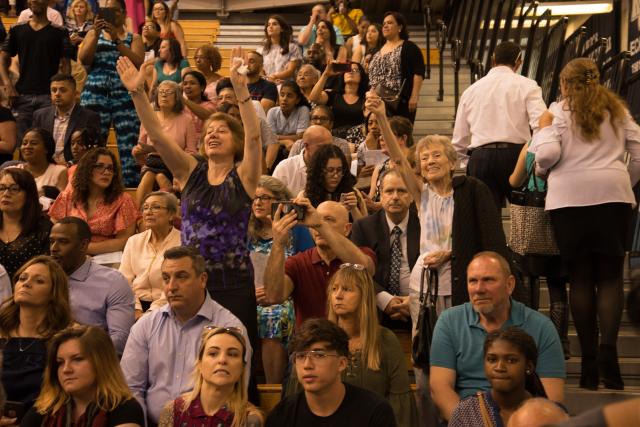 Each student was congratulated on stage by the dean of their college and the vice president for academic affairs.
"This means a lot," said 32-year-old George Higgins of Morristown, a father of three who is graduating cum laude with a degree in political science and will attend law school in the fall. "As a first generation college graduate, it is an example for my children that shows them what you can accomplish if you put your mind to it."
Dayma Garcia of West Orange is graduating magna cum laude with a bachelor's degree in psychology and plans to attend graduate school, after having her second child in August.
"It means I worked really hard, and I drank a lot of coffee and stayed up late at night," she said. "But it is thrilling. It is a huge sense of achievement."
The Honors Convocation was also a time for parents to reflect on their children's accomplishments and their journeys to this pivotal moment in their lives.
"We weren't college people. It wasn't us," said Donna Masucci of Roselle Park, whose daughter Christina is graduating summa cum laude with a bachelor's degree in English. "We can't believe that she's ours. We're extremely proud, more than words can say. Probably more than we've ever even told her."
For more information on Kean University's Undergraduate Commencement, which will be held at the Prudential Center in Newark on Thursday, May 17 at 8:30 a.m., visit www.kean.edu/commencement.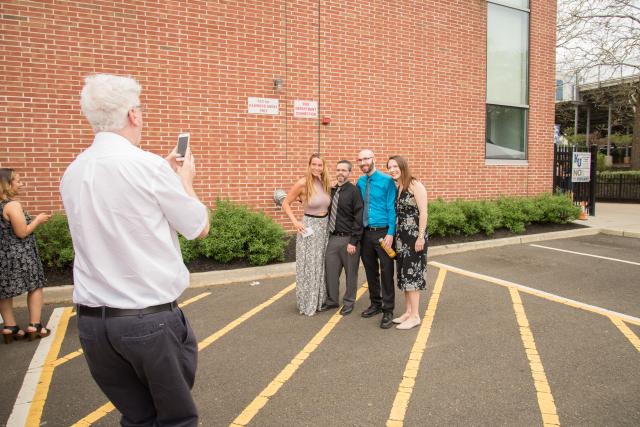 Tagged