Kean's Future Teacher Academy Enhances Students' Image of the Teaching Profession
Record number of high school students attended fall event
UNION, N.J. –– A record number of high school students participated in the Future Teacher Academy (FTA), held at Kean University in Fall 2016. The nearly 160 students and their teachers from Rahway, Hillside, Elizabeth, Linden and Scotch Plains came to campus for a program that focused on best practices for teaching English-language learners and students with autism, as well as approaches to teaching music, recreation and health.
"Kean has a rich tradition of preparing educators to work in the state of New Jersey and beyond," said Anthony Pittman, Ph.D., acting dean of Kean's College of Education, noting that three of the last five New Jersey State Teachers of the Year are Kean alumni. "The FTA provides multiple opportunities to affect the lives of young people who have been inspired to pursue a career in teaching."
In her keynote address at the recent FTA event, Sancha Gray, assistant superintendent of curriculum and instruction for the Asbury Park Public Schools, explored the "moral imperative" that teachers face when developing programs to help at-risk youth succeed academically.
"Not preparing students with the skills to be college and career ready results in a lifetime of marginal employment and second-class citizenship," said Gray. "Let's think about our obligation to our students and how we can better support them."
FTA, which was established by Kean's College of Education in 2000, recruits and prepares high school students of various ethnic and socioeconomic backgrounds to become teachers. With the overarching objective of attracting talented students to careers in education, Kean's FTA represents a cadre of valuable partnerships between the University and its surrounding communities and school districts.
"The record number of high school students attending our most recent Future Teacher Academy demonstrates the program's success in impacting the lives of young students," said Gail Verdi, Ph.D., assistant professor of elementary and bilingual education at Kean. "We are working collaboratively with our partner districts in motivating young people from diverse backgrounds to explore a career in teaching, and that bodes well for the profession."
Held twice a year, FTA offers faculty-led academic workshops in the fall, including music, elementary, and bilingual education, special education, and physical education, recreation and health. In the spring, the program focuses on Kean's unique campus resources, including the Holocaust Resource Center and Liberty Hall Museum. All of the FTA programs require students to think critically about teaching and learning.
As part of its goals, the FTA promotes and enhances a positive image of teaching; showcases the broad range of career opportunities available for educators; acquaints students with diverse populations; encourages ongoing exploration of emerging research and technology; and develops strategies and provides opportunities for students to apply theories to actual classroom practice. Educators, families and the public are involved in each of these endeavors.
The spring 2017 Future Teacher Academy is planned for Friday, May 12, alongside Kean's annual Urban Thought Leadership Conference.
PHOTO CAPTION: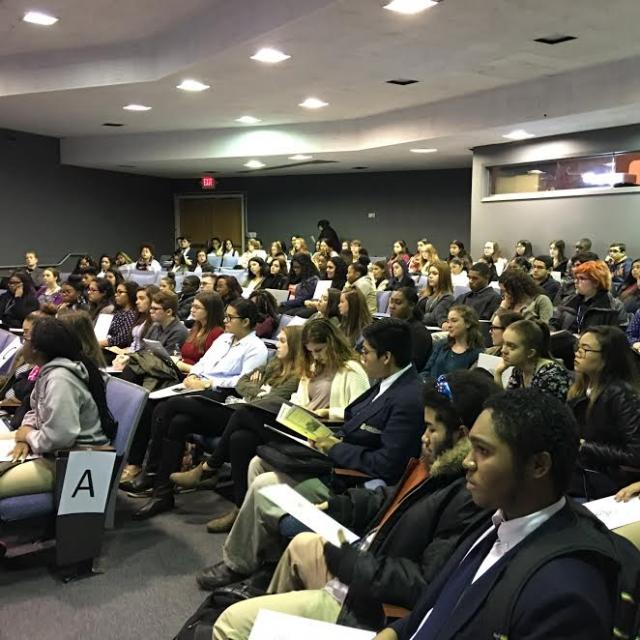 CAPTION: Nearly 160 high school students worked with Kean University faculty during sessions that required them to think critically about different aspects of teaching and learning at the annual Future Teacher Academy last fall.

ABOUT KEAN UNIVERSITY
Founded in 1855, Kean University has become one of the largest metropolitan institutions of higher education in the region, with a richly diverse student, faculty and staff population. Kean continues to play a key role in the training of teachers and is a hub of educational, technological and cultural enrichment serving nearly 15,000 students. The University's six undergraduate colleges offer 50 undergraduate degrees over a full range of academic subjects. The Nathan Weiss Graduate College offers four doctorate degree programs and more than 60 options for graduate study leading to master's degrees, professional diplomas or certifications. With campuses in Union and Toms River, New Jersey, and Wenzhou, China, Kean University furthers its mission by providing an affordable, accessible and world-class education. Visit www.kean.edu.
###
MEDIA CONTACT:
Millie Gonzalez
University Relations
Kean University
Mgonzale@kean.edu | 908-737-0586