Kean's Role as Hispanic-Serving Institution Demonstrated at White House and at Home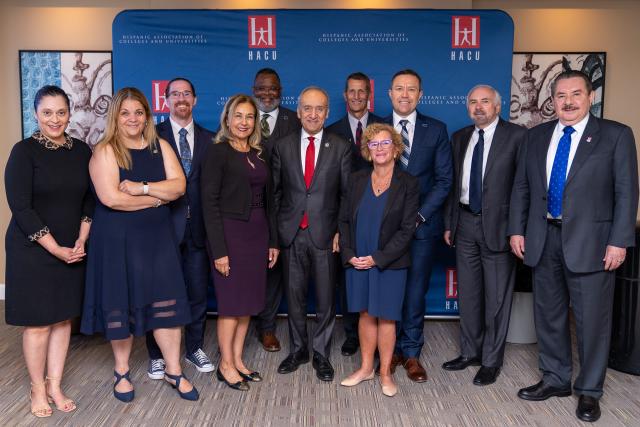 Kean's rise in prominence as a Hispanic-Serving Institution (HSI) was showcased as the University's president met with education leaders in Washington, D.C. today at the same time that the state's top-ranking Latina addressed students and visitors on the Union campus.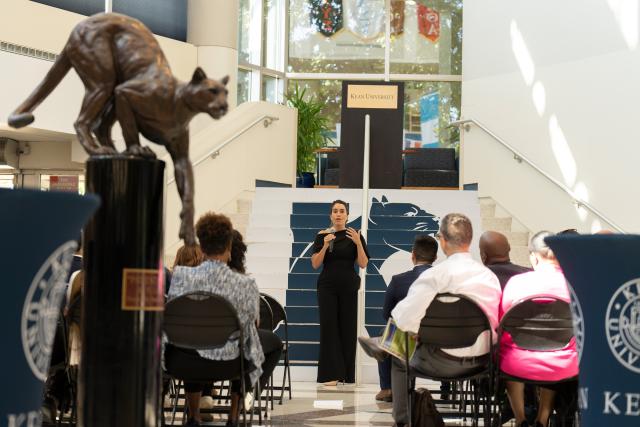 Kean President Lamont O. Repollet, Ed.D., visited the White House with presidents from HSIs nationwide while Senate Majority Leader Teresa Ruiz spoke at a town hall with Hispanic leaders and alumni in Kean's student center. 
The events took place during Hispanic Heritage Month, which honors the importance of educating first-generation and Hispanic and Latinx students. About one-third of Kean's students are Hispanic.
"It was empowering to be at the White House today discussing higher education issues with a member of the Domestic Policy Council; Dr. Lena Rodriguez of the Hispanic Association of Colleges and Universities; and my colleagues at HSIs," Repollet said. "We are tremendously proud of our role as an HSI and are grateful for the opportunity to shine a light on all that we do to support first-generation students."
Earlier in the day, Repollet also joined Nasser H. Paydar, Ph.D., assistant secretary for post-secondary education with the U.S. Department of Education and other college leaders, including Rutgers-Newark Chancellor Nancy Cantor, in a roundtable discussion in Washington, D.C. hosted by the Hispanic Association of Colleges and Universities (HACU).
Kean alumnus Jason Pleitez '22, now a graduate assistant in the president's office at Kean, was a student speaker on the panel.
"My story and lineage are similar to many students who attend Hispanic-Serving Institutions like Kean," Pleitez said. "As a first-generation Latino student, I received access to many campus resources. I am grateful to have participated in this meeting with President Repollet to emphasize the importance of student support programs."
At Kean, Sancha Gray, Ed.D., senior vice president for Entrepreneurial Education Initiatives, welcomed a crowd for a Hispanic Heritage Town Hall program entitled Honoring our Roots & Building Tomorrow's Success. 
Ruiz, who is the highest-ranking Latina in the history of the New Jersey State Legislature, delivered a keynote speech.
"Kean University, como estan?" Ruiz began, greeting the crowd in Spanish. The Newark native talked about her rise in politics, recalling many times when she was the only Latina in the room.
"You never know when that tap is going to come on the shoulder," said Ruiz, who was first elected to the Senate in 2007. "Sometimes you're going to be alone, and sometimes you're going to be the only woman of color in the room. We have to do things twice as hard, get louder, do it stronger and repeat it. I feel like I'm the defender of the one that doesn't have a voice."
Kean graduate Sara Pena '96, the director of external affairs at PSE&G and a former president of Latinas United for Political Empowerment, also offered encouragement to students.
"The best advice I can give is believe in yourself," Pena said. "This institution showed me I can make it."
Diana Vasquez, director of the National Internship Programs and Strategic Initiatives at HACU, spoke about her association's internship program, which helps Hispanic students obtain paying internships at federal agencies. She also said Kean is making itself known at HACU.
"The name of the school rings bells," she said.
Kean alumnus Sergio Granados, '10,'16 MPA, now a Union County Commissioner, said it is important to hold events such as the town hall. 
"The goal of events like this is to usher a sense of pride for Hispanic students," he said. "Today more Latinos are achieving the American dream."
The final speaker on the program was Kean graduate student Felipe Peralta '21, now a graduate assistant in the Office of Government Affairs and Community Partnerships. 
He said when he began at Kean, he went straight home after classes. Then he decided to "make the most of" his time at Kean, joining the Leadership Program and a fraternity, and developing "swagger" on campus.
"For all my Hispanic brothers and sisters, there are resources available for us. You just have to find them," he said. "All my hard work and stress were worth it when I saw my parents at graduation."