Law Enforcement, Mental Health Partnership ARRIVES at Kean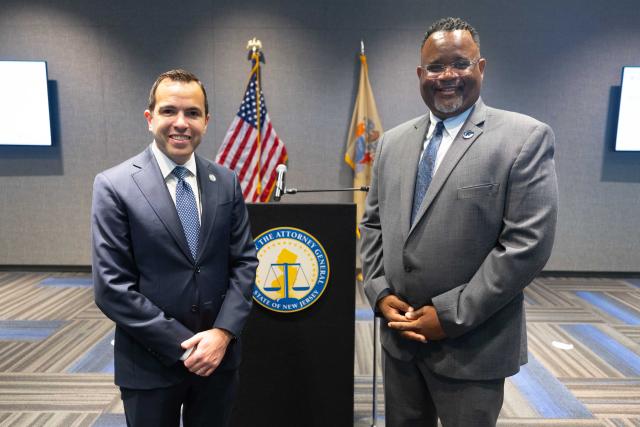 Kean University is the first higher education institution in New Jersey to adopt a new program that pairs law enforcement officers and mental health screeners together to respond for mental or behavioral health emergencies.
Kean President Lamont O. Repollet, Ed.D., joined New Jersey Attorney General Matthew J. Platkin to announce expansion of the Alternative Response to Reduce Instances of Violence and Escalation (ARRIVE) Together program at Kean and in all 21 Union County towns.
"Kean University is proud to be the first university in the state to join this innovative partnership, which responds to mental health emergencies with the resources best prepared to handle them," Repollet said. "Wellness is a core value at Kean, and ARRIVE Together will add to our campus well-being initiatives while also providing an opportunity for the university to support the county's efforts. We look forward to working with Attorney General Platkin and our partners in Union County on this program that will undoubtedly make a real difference in the lives of many people."
Platkin and Repollet were joined by elected leaders, law enforcement and mental healthcare representatives at Kean's North Avenue Academic Building to announce the expansion.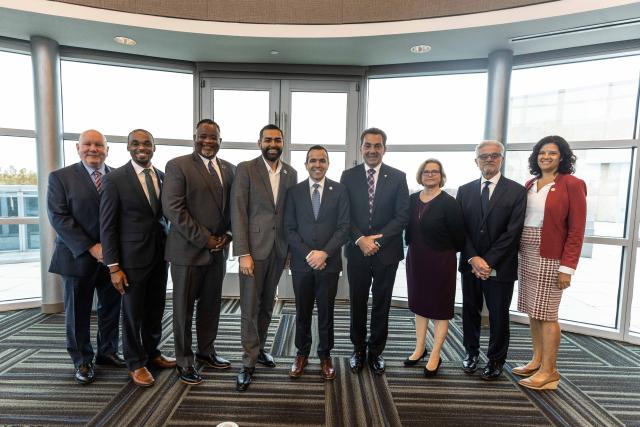 ARRIVE Together is designed to de-escalate emergency calls involving mental or behavioral health, by training and preparing law enforcement and mental health representatives to arrive at a situation at the same time.
It began as a co-response program in 2021 in Cumberland County, where the New Jersey State Police partnered with the Cumberland County Guidance Center. Linden and Elizabeth then became the first municipal police departments to take part; programs now operate in 13 counties, with plans to be in all 21 New Jersey counties by year's end.
So far, ARRIVE Together has reported more than 1,400 interactions across the state.
A Brookings Institution analysis reported "promising results" for the program: increased community use of mental health services, and reductions in the use of force, arrests and racial disparities in outcomes. 
Kean's on-campus police and mental health services are being trained to partner in the program.
Platkin praised the participation of Kean University and all of Union County's municipalities, calling it a "milestone" for the program.
"My thanks to Union County's municipal and county law enforcement leaders, elected officials, community leaders, and the leadership of Kean University for recognizing the value of this transformative program," he said.
New Jersey Senate President Nick Scutari '89, Union County Prosecutor William Daniel, and Union County Commissioner Chairman Sergio Granados '10, '16 MPA, also took part in the announcement at Kean.
"ARRIVE Together has proven to be an effective collaboration between law enforcement and mental health professionals," Scutari said. "It allows them to respond to crisis situations by de-escalating conflicts, protecting the safety of everyone involved, and providing behavioral health assistance for those in need."
Granados added that "Stepping Up to Mental Health" has been at the forefront of his work as Union County commissioner chairman. 
"Additionally, I am proud to have worked closely with Dr. Repollet, president of Kean University, to help make them the first institution in the state to utilize this program. Our team is committed to ensuring that all residents and law enforcement agencies are equipped with the essential personnel and tools for safe and effective interactions in various situations."
Platkin expressed thanks to Governor Phil Murphy and the state legislature, which included a $10 million appropriation for the program in the fiscal year 2024 budget.
To learn more about ARRIVE Together, visit the ARRIVE Together webpage.
Tagged