Live Entertainment Returns to Kean University with Outdoor Events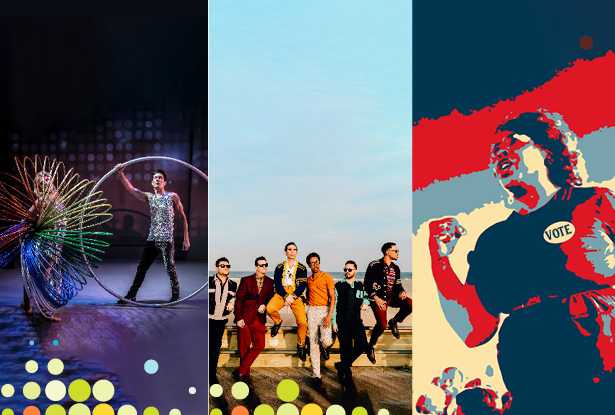 Kean University is welcoming the community back to campus with three outdoor entertainment events, created with COVID-19 precautions to allow audiences to enjoy live performances safely.
A new play premiering in an outdoor tent venue at Liberty Hall Museum this week and an acrobatic show and concert coming up at Alumni Stadium will bring live entertainment back to Kean for the first time since the pandemic shut down performances in March.
"This is an unprecedented time. For months, we have been in isolation or quarantine," said Kean Stage Manager Steve Cochran. "I believe we are hungry for human interaction again in a safe manner, the type of interaction found through live entertainment. We are proud to offer that." 
Premiere Stages at Kean, the University's on-campus professional theatre, will present Cheryl L. West's new play Fannie Lou Hamer, Speak On It!, at the outdoor tent at Liberty Hall Museum, this week October 15-18. 
Directed by Marshall Jones III, the powerful and timely play brings to life 1960s civil rights activist Fannie Lou Hamer as she leads a rally to fight for voting and racial equality.
"As we are only a few weeks away from arguably one of the most important elections in American history, Fannie Lou Hamer's message is as vital to share today as it was in the 1960s," said John J. Wooten, producing artistic director for Premiere Stages and director of arts programming for Kean University.
Get-out-the-vote and educational activities will accompany the play, Wooten said. Students are offered $10 discount tickets if they pledge to vote, using coupon code PLEDGE, and Q&A sessions on voting, equity, diversity and inclusion are planned after the matinees. Kean students have priority on the coupon code, but all students may use it.
Later this month at Alumni Stadium, Kean Stage will present two different live shows, The Doo-Wop Project,  a group of Broadway veterans who will bring the street-corner harmonies of doo-wop to songs new and old on October 22, and the Acrobats of Cirque-tacular, a family-friendly acrobatic performance on October 24. Each performance has a rain date the following day.
"We are pleased to have the opportunity to do what we do best — showcase world-class arts to our Kean family and our community-at-large," Cochran said.
All three performances will meet State of New Jersey guidelines for outdoor events. COVID-19 safety protocols will be followed for performers and staff throughout the event. Staff will wear PPE and face coverings. Performers will not wear masks but will remain at least 20 feet away from patrons in the outdoor venue. 
Audience members will be asked when they purchase tickets to adhere to Kean safety notices, such as this one for The Doo-Wop Project concert, and provide contact-tracing information, have their temperature checked, wear face coverings and comply with other safety measures.
The shows have no intermissions. All seating is outside, and playbills are virtual. 
Going forward, in the near-term both Kean Stage and Premiere Stages plan to return to largely virtual performances. Readings and virtual Master Classes will be held by Premiere Stages, and virtual or hybrid performances are being planned by Kean Stage.
Kean fully expects to return to its robust schedule of entertainment offerings when deemed safe for indoor performances. 
"In the summer of 2021, we plan to again offer a full season of Play Festival events," Wooten said. 
For more information about Premiere Stages plans next year, visit premierestagesatkean.com.
For ticket information for all three live shows, please visit http://www.keanstage.com/.
Tagged