Master of Architecture Program Receives Accreditation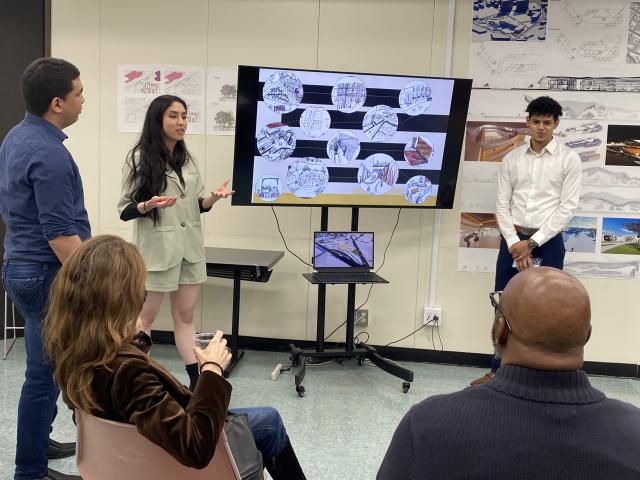 Kean University's Master of Architecture program in Michael Graves College has received accreditation from the National Architectural Accrediting Board (NAAB). In issuing the three-year accreditation, NAAB noted that the College's mission and vision were "met with distinction."
"This accreditation recognizes the superior education that architecture students receive at Kean University," said Kean President Lamont O. Repollet, Ed.D. "The architecture program's focus on public architecture reflects Kean's role as the state's urban research university and our support for New Jersey communities."
David Mohney, FAIA, dean of Michael Graves College, said it is very gratifying to receive the accreditation. 
"We are particularly pleased that our program has been singled out by NAAB for the synergy of its mission, vision and pedagogy," Mohney said. "At the School of Public Architecture, we focus on public projects that put design in the service of the public good. Our students focus on communities across New Jersey to transform spaces and prepare them to be architects who will improve the built world around them.  
The Master of Architecture program enrolled its first students in 2019, with the first graduates receiving their degrees in May 2021. With the accreditation, which is retroactive to January 2021, all graduates of the M.Arch. program are now eligible to become licensed architects. 
"The architecture program's full accreditation by NAAB is a testament not only to the quality of instruction, but to the vision driving the Michael Graves College's embrace of a truly public architecture," said David. S. Birdsell, Ph.D., provost and senior vice president of academic affairs at Kean. "It will be among the program's most important contributions to the practice of architecture, and there could not be a better match for a University devoted to inclusion and the urban communities we serve."
The Kean Bachelor of Architectural Studies program launched in Fall 2015 with the guidance and endorsement of the late Michael Graves, the famed architect and designer after whom Kean's Michael Graves College is named. A signature component of the Kean undergraduate architecture program is a semester abroad in junior year to study classical architecture in Rome.
NAAB teams conducted four site visits at Kean to assess the M.Arch. program, including student outcomes. The National Architectural Accrediting Board is the sole agency authorized to accredit professional degree programs in architecture offered by institutions with U.S. regional accreditation. 
Tagged