Michael Graves College Inaugural Architectural Studies Class Set to Graduate
The School of Public Architecture in Michael Graves College will soon have its first alumni as the original group of students that enrolled in the program earns bachelor's degrees in architectural studies this month at Kean University's commencement.
"This bold group of students took a chance on a brand new program four years ago and they are being rewarded with success beyond what we could have expected," said Kean President Dawood Farahi, Ph.D. "They have set the bar high for the architecture graduates who will follow them."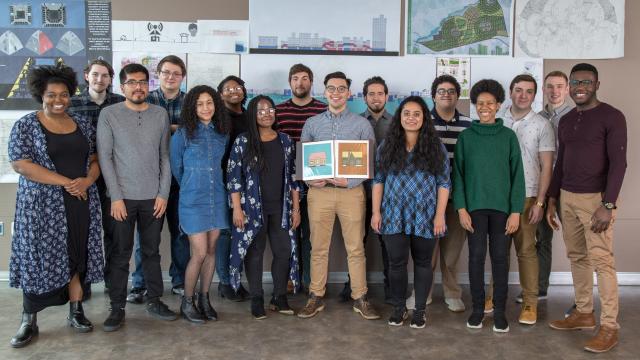 Many of the students have been accepted to the most prestigious architecture graduate programs in the nation, including those at Yale, Columbia and Princeton universities. In a ringing endorsement of the architecture program at Kean, several have chosen to continue their studies in Kean's two-year master's degree program that is launching in Fall 2019.
Meagan Davis of South Orange is one of the students who will stay at Kean.
"It is an honor to be in the first graduating class and to be able to say you've helped pave the way. We are proving this program to be real and worth it," she said. "I don't think any other college or university would have given me the same experience when it comes to one-on-one conversations, advice, advising, and just help in general from faculty. This is one of the main reasons I have grown so much as an architecture student."
Michael Graves, the internationally renowned architect and designer for whom the college is named, helped design the curriculum and launch the program before his death in March 2015. Kean had sought to add architectural studies as a complement to the existing design programs in the Robert Busch School of Design — graphic design, advertising, interior design and industrial design. Now, students in all five disciplines, all part of Michael Graves College, routinely collaborate on projects.
"Michael Graves was an unusual architect because he designed much more than buildings. He ended up designing over 2,000 objects that Target sold, everything from clocks and telephones to picture frames and kitchen utensils," said David Mohney, FAIA, dean of Michael Graves College. "What's so great about him being involved with Kean is that we actually have all of those different scales of design here. It is a great opportunity for all these different students to work together and do it in a way that reflects Michael's career."
In working with Kean to develop the program, Graves included two curriculum components that were non-negotiable — the students had to draw by hand, and they had to go to Rome. The program features a semester in Rome in the third year, a highlight for students.
"It was completely life changing and incredibly necessary for someone interested in studying architecture," said Lillian Agutu of Roselle, who will attend the graduate architecture program at Yale University in the fall.
Many students in the architectural studies program also study at Kean's China campus, Wenzhou-Kean University, which has a Michael Graves School of Architecture that offers an identical program to the one at Kean USA. The school's new building, located in the heart of the Wenzhou campus, is expected to open in January 2020.
Dean Mohney said the program has come a long way in four years, developing important contacts with architectural firms in New York, New Jersey, Pennsylvania and Connecticut so students can have internships and future job opportunities. He said he wants to build on the College's reputation of quality in the region.
"I would like the Michael Graves College to be perceived as even more of a resource to the public and a catalyst for raising public expectations about the designed and built environment," he said. "I would like people looking at Kean University, Wenzhou-Kean University and the Michael Graves College saying, 'The world around us is better because of the work and ideas coming out of these institutions and that college.' That is my goal."