My Experience Speaking to U.S. Legislators on Capitol Hill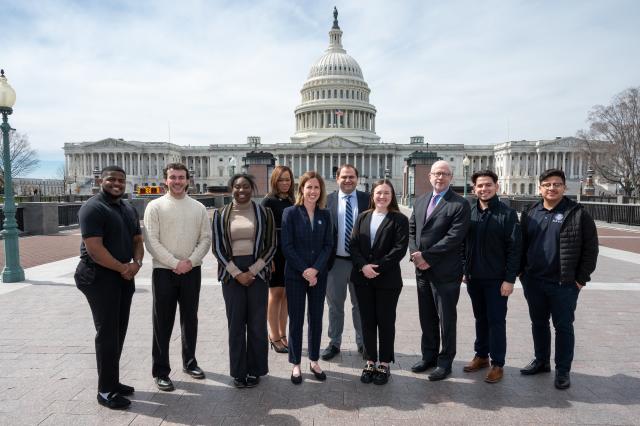 A delegation of Kean University deans, administrators and students traveled to Washington, D.C. recently for the inaugural Kean Day on Capitol Hill. Communication studies graduate student Julia Stasil was among them. She shares her journey with Kean News.
I have been lucky to experience many exciting opportunities as a Kean University student, but last week may have been the best one yet. I went to Washington, D.C., with a group of Kean students and administrators, and got to talk with congressional representatives and other leaders on Capitol Hill, attend workshops and forums and even do some sightseeing.
As a student talking to members of Congress, I felt empowered to have my voice heard. Student loans and debt are huge issues for students of higher education, and I was able to bring that topic up on Capitol Hill. Imagine having that kind of direct access to our federal legislators!
Meeting face-to-face with New Jersey Congressman Tom Kean Jr. and other leaders, the other students and I had the chance to share our stories, experiences and concerns. I felt like an advocate for other students at Kean who feel the same way about issues that we all encounter. The legislators and their staff members treated us like the intelligent, educated adults we are, and it made talking to them very easy.
It was an opportunity I was grateful to have. 
The weather was also beautiful in D.C. We saw the gorgeous flowering cherry trees, and walked around as much as we could to take in the sights of our nation's capital.
On the first day, after several meetings, we experienced an exciting moment at the Senate Dining Hall. To our surprise, we saw Vermont Senator Bernie Sanders waiting to get in the elevator after getting a salad for himself at the dining hall. 
"Hello, hello," he said in his distinctive Bernie voice, giving us a wave as he hopped on the elevator and the door closed. We were all starstruck and thought it was the coolest thing ever to cross paths with a former presidential candidate.
On the second day, we went to the AT&T Forum event space, where we heard a keynote speaker on Veterans Affairs and learned about student advocacy from a panel moderated by Maria Cardona from CNN Español. The panelists discussed issues that interested us as students, such as the environment and sustainability; funding for Historically Black Colleges and Universities and Hispanic-Serving Institutions; the importance of voting as young adults; and equity and inclusion.
We received amazing tools and helpful information about various programs, including internship opportunities we can share with other Kean students through the HACU National Internship Program.
The panelists – in fact, everyone we met – considered us young leaders and wanted us to go on to do great things. They offered advice, knowledge and opportunities. Their encouragement was not meant only for the small group of us; it was directed to all New Jersey college students.
I have been a student at Kean University since 2016 and played softball for the University throughout my time as an undergraduate. I earned my bachelor's degree in communication, with a concentration in media and film, in 2021. This May, I will graduate with my master's degree in communication studies. After that, it's on to the real world and the rest of my life.
This trip was a fantastic way to close out my educational journey at Kean. I am grateful for all the opportunities I have been offered at Kean and the people I have met. My advice to other students is to seek out and accept everything that comes your way at Kean.
I am proud to be a Kean Cougar and look forward to climbing higher with my Kean degree.
Tagged