Nathan Weiss Graduate College Confers Nearly 700 Advanced Degrees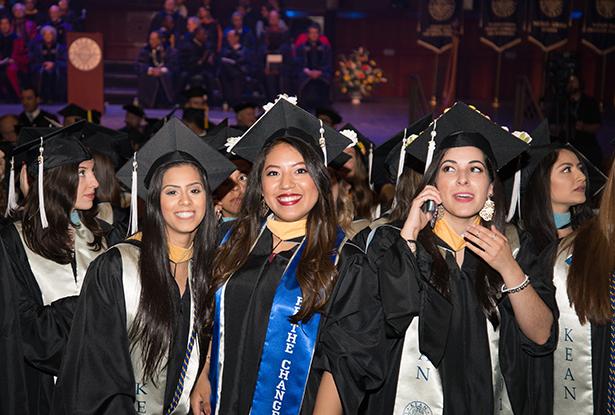 Singing a song from the Broadway musical Hamilton that helped make him a star, Tony Award-winner Leslie Odom Jr. told graduates to live a life of intention as he spoke at Kean University's Nathan Weiss Graduate College Commencement on Tuesday, May 15, at New Jersey Performing Arts Center in Newark.
The College conferred 699 advanced degrees - 26 doctorates, 652 master's degrees and 21 professional diplomas - in the fields of health care, education, business, science and the humanities. The first cohort of Kean Online graduates also received advanced degrees at the ceremony.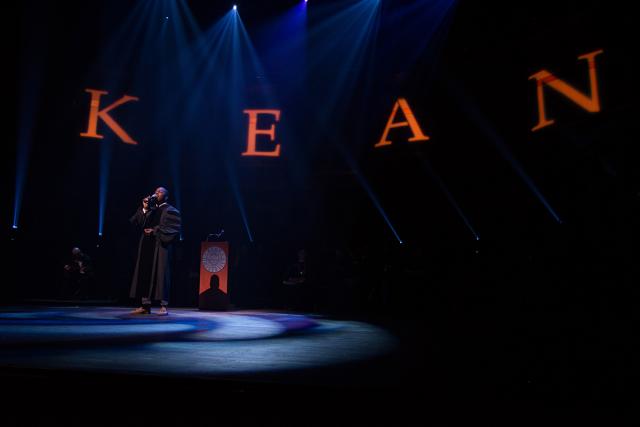 Odom, who skyrocketed to fame and acclaim for his portrayal of Aaron Burr in Hamilton, sang Dear Theodosia from the musical and Forever Young to thunderous applause from the graduates, who ranged in age from 22 to 72, and their families, friends and supporters. The performance came after his speech in which he talked about the guiding force in his life – intention.
"So much of your ultimate success lies in just how well your actions line up behind your intentions," he said. "I am not talking about abstract, gooey, insipid, faux, new-age nonsense. I am talking about getting to know yourself and naming the things you want, about taking the time to get to know exactly why you want those things."
The author of the motivational book Failing Up: How to Take Risks, Aim Higher, and Never Stop Learning, described how making purposeful decisions in his personal and professional life served him well.
"Your clients, your patients, your coworkers, your bosses will respond to the conscientious way in which you prepare to interact with them," Odom said. "You've begun this quiet, 
humble process already, right here. You dreamed of the world that you will now endeavor to build. You've prepared and have made your intentions known. May it continue from here."
Kean President Dawood Farahi, Ph.D., awarded Odom the Kean Medal, the University's highest honor, as well as an honorary Doctor of Humane Letters.
Calling the graduates the "best of the best," Farahi praised their commitment, perseverance and sacrifice and reminded them that with success comes obligation.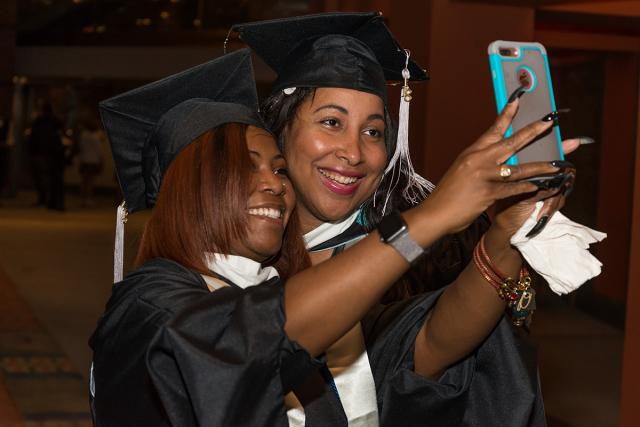 "People will look to you for leadership. People will look to you for problem solving. People will look for you to change the world. Your journey at Kean has prepared you to become what you are meant to be," Farahi said.
 
Assistant Vice President for Academic Affairs and Interim Dean for the Nathan Weiss Graduate College, Eric Yang, Ph.D., said the graduates are "living examples that the world-class education at Kean nurtures your success regardless of your color of skin, culture, religion, gender and socioeconomic status."
Graduate Student with Distinction Lawrence McDonald of Old Bridge, who earned a master's degree in speech-language pathology, compared graduate school to his first foray into wrestling in fifth grade, when he had the wind knocked out of him and had to be coaxed back onto the mat.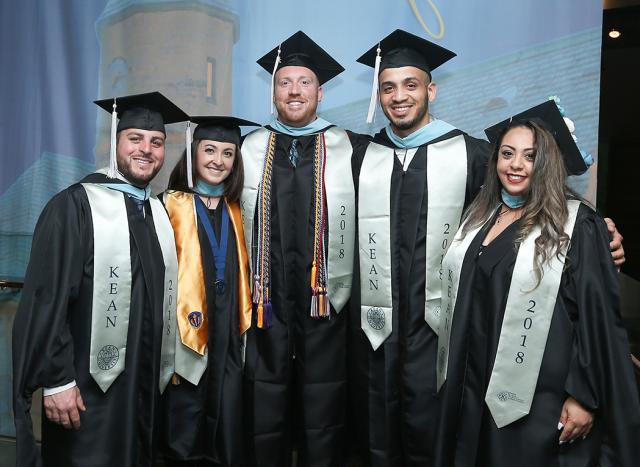 "I imagine that for many of us, finishing graduate school seemed like a daunting task. I know it did for me. But we did do it," McDonald said. "There will be new aspirations, and new challenges, and sometimes we may again question our abilities to persevere. But everyone in this room today has demonstrated the ability to set a lofty goal and to see it through. And that in itself is something to be very, very proud of."
Graduate and Part-time Student Council President Hailey Cruz of Perth Amboy, who graduated with a master's degree in school counseling, reminded her fellow alumni of the next challenge – finding a job.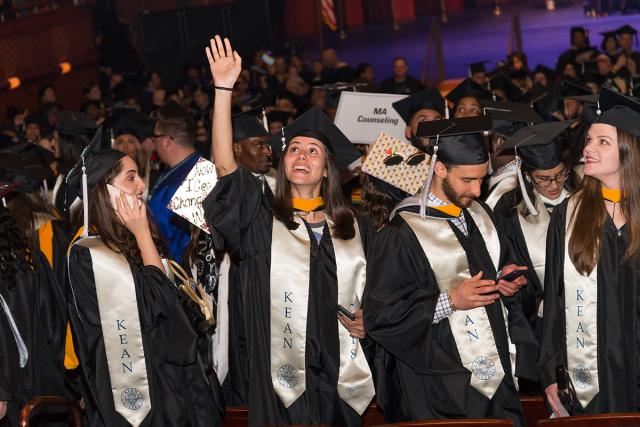 "As you embark on this journey of the unknown, realize that the road to applying to the job of your desire may be exhausting and discouraging," Cruz said. "However, remember to stop and reflect on your graduate journey and how at first it may have seemed difficult, but you accomplished it!"
Kean University's Undergraduate Commencement will be held on Thursday, May 17, at the Prudential Center in Newark. U.S. Senator Cory Booker, the former mayor of Newark, will deliver the Commencement Address to the nearly 3,000 graduating seniors of Kean's undergraduate Class of 2018.
Tagged