New Kean University Scholarships Aim to Help Students Climb Higher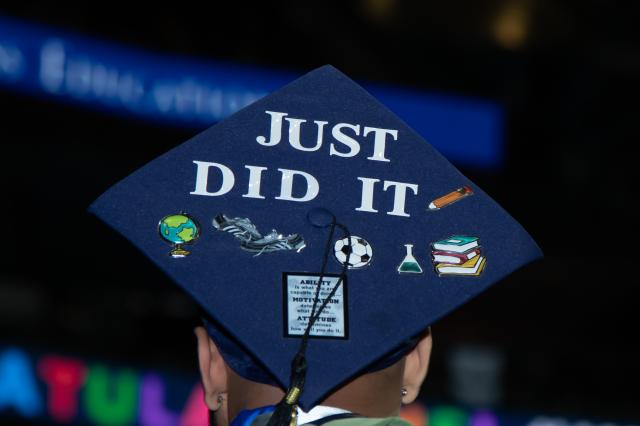 Test-optional admissions policy launches for high-achieving students
A new Kean University scholarship rewards incoming students with strong academic records in high school who opt not to report their SAT or ACT scores when applying to the University.
The Board of Trustees last week approved the new one-time $1,000 "Climb Higher" scholarship for students who have at least a 3.5 high school GPA as the University prepares to offer test-optional admission for those high-achieving students beginning in Fall 2020.
The board also approved another new scholarship, the "Learn, Earn and Persist (LEAP) Scholarship," that provides funding to students entering their second year at Kean who have a GPA of at least 3.0 but a gap between their financial aid and their total student bill. LEAP students also give back to Kean by completing a work-study assignment. 
"Kean continues to provide an affordable, world-class education to qualified prospective students," Kean President Dawood Farahi, Ph.D., said. "We believe these scholarships, and the test-optional admission policy, will allow us to continue our rich history of attracting applicants with diverse backgrounds, including first-generation and low-income students, while keeping standards strong."
U.S. News & World Report recently named Kean a top performer for social mobility in the northern United States, recognizing the University's commitment to helping low-income students succeed and graduate.
The LEAP scholarship, which was designed to help students graduate in four years, launched as a pilot this fall and already has 62 recipients doing work-study assignments ranging from giving tours in the Human Rights Institute Gallery to conducting research in Career Services.
The Climb Higher Scholarship is funded through a permanent $3 million scholarship fund through the Kean University Foundation.
The University is launching the test-optional admissions policy after analysis from the Office of Institutional Research showed high school GPA has a more significant impact on a student's ability to persist and graduate than standardized test scores.
More than 1,000 four-year colleges in the country, and more than half of those in New Jersey, including Montclair State, Rowan, William Paterson and Drew universities, are test-optional. 
"Kean wants to continue to open a door to world-class education for high-performing students regardless of their ability to take the SAT," said Marsha McCarthy, vice president of Kean's Division of Enrollment Services. "It is another way to demonstrate our mission of combining excellence with equity in providing opportunities for all students."
Under the new policy, there are some situations where the SAT/ACT would still be required of students, such as applications for merit scholarships that are available to all qualified students, including scholarships for the New Jersey Center for Science, Technology and Mathematics (NJCSTM) program. Students applying to joint admission programs with reciprocating schools that require test scores would also need to submit scores.