New Kean.edu Launches for Fall 2018 Semester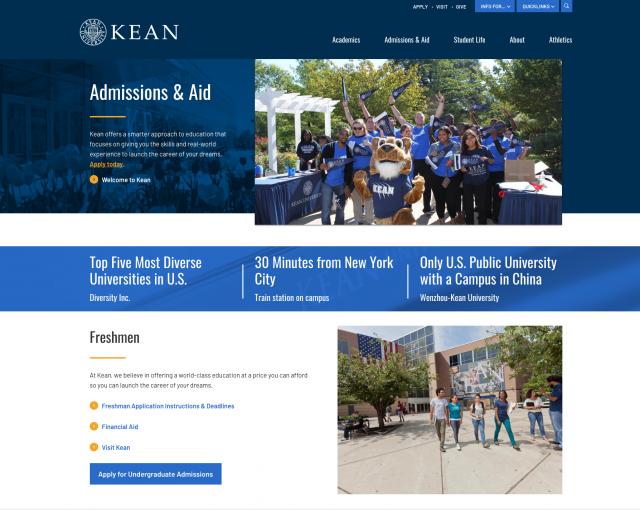 Kean University unveiled a new Kean.edu website at the start of the Fall semester to better showcase the University's academic programs, research and student success to our digital audience.
The new site, which was built by University Relations and an outside vendor, delivers multimedia and print content to tell the Kean story. It also helps prospective students find what they need to apply, enroll and ultimately graduate from Kean.
"We built a best-in-class site that highlights Kean's strengths – from outstanding academics to diversity and affordability," said Karen Smith, vice president of University Relations. "The website is our digital front door so it's essential that it makes a strong first impression about the comprehensive education experience that Kean provides."
The Kean.edu project focused on creating fresh content for each of the University's academic programs so prospective students and current students understand exactly what they will learn in those programs and how their Kean degrees will help them launch successful careers. The academic pages also contain new sections devoted to what students can learn beyond the classroom walls, through clubs and activities.
The site includes new sections for Career Services and International Education, two programs at the cornerstone of the University's efforts to provide students with internships and study abroad experiences that enhance their education.
It also presents videos, photos and news about the University through a redefined Kean News section, replacing a separate news website. The site will showcase those news stories in several locations, including the homepage.
"The stories about our students and faculty illustrate the strengths of the institution," Smith said. "We want to make sure everyone who visits Kean.edu learns something about the people and scholarship that set Kean apart."
The site aims to streamline the navigation process so users can efficiently find what they're looking for – whether its news and events, academics, admissions or student life. A new dining section, for example, brings together information about everything from where to get a cup of coffee to how to find Kean's upscale steakhouse.
The new site is specifically designed to respond well on mobile devices so students and others can use it on their phones.
The launch of the new site coincides with the launch of the University's new app, which is available for download in the Google Play and iTunes stores.
Tagged