New Urban Policy Institute Launches at Kean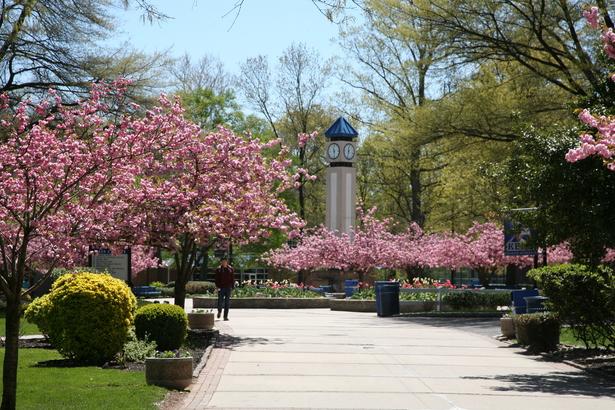 Kean University today announces the establishment of a new John S. Watson Institute for Urban Policy and Research to focus on research and practical, achievable solutions that will improve the lives of people living in urban communities, building on the University's commitment to scholarship and community service.
The new Institute will work closely with the New Jersey Urban Mayors Association (NJUMA), which is now affiliated with the University and includes mayors from 32 urban centers across the state. The association works with state and federal agencies, lawmakers and nongovernmental and community-based organizations to develop and advance progressive and effective public policy for urban communities.
"Kean is on a trajectory to become the next great urban policy and research institution in the State of New Jersey, and this Institute will play a critical role in that transformation," said Kean President Lamont O. Repollet, Ed.D. "I cannot think of a greater way to contribute to the future of our state than by supporting faculty research and scholarship that advances effective public policy and transformative practices in our cities. Many of Kean's students come from our urban communities and now they will have the opportunity to engage in applied research and academically based community learning projects at the Institute. We look forward to collaborating with the state's urban mayors to lead the charge."
The Institute bears the name of the late New Jersey Assemblyman John S. Watson, the first African American elected to the Mercer County Board of County Commissioners and the nation's first African-American chairman of a state appropriations committee. Assemblyman Watson was committed to building capacity in New Jersey's urban centers.
"Our family is enormously proud to link our father's name and legacy as a statesman, policymaker and public servant to Kean University's Institute for Urban Policy and Research," said John S. Watson Jr., spokesperson for the Watson family. "Considering the glaring societal disparities, civil unrest and disproportionate impacts of the pandemic and climate crisis, the Institute's mission is more important than ever. With its talented leadership team and President Repollet's energy, vision and leadership, the Institute is poised to have a sustainable impact on people and urban communities across the state."
"The New Jersey Urban Mayors Association is excited about its new and innovative affiliation and partnership with the Institute for Urban Policy and Research at Kean University," said Mayor Ras Baraka of the City of Newark and President of the NJUMA. "Our member cities, which include urban municipalities across the state, will benefit immensely from having a world-class higher education partner to identify research-based policy and practice solutions that will accelerate urban revitalization and improve the quality of life for our residents."
The Institute will approach policy by engaging community members to examine the root causes of problems and issues facing their communities and working intentionally to use policy and best practice models to address community concerns. The Institute will focus on legislative solutions to critical urban issues, innovative program models, applied policy research and capacity building for government and nonprofits.
"As lawmakers representing urban centers, we need empirical research and policy studies that acknowledge the assets and challenges that are specific and unique to our urban communities," said state Senator Ronald L. Rice, 28th Legislative District, who is vice-chair of the Senate Community and Urban Affairs Committee and chair of the New Jersey Legislative Black Caucus (NJ LBC). "The Institute at Kean will provide the Legislature with the expertise to examine policies and legislation that respect both the complexity and sense of urgency we need to responsibly advance the state's urban agenda."
"The NJ LBC is looking forward to a continued partnership with the John S. Watson Institute for Urban Policy and Research now located at Kean University to create innovative and sustaining policies to help people across our great state," said Assemblywoman Shavonda Sumter '96, 35th Legislative District, who is chair of the Assembly Community Development and Affairs Committee and vice-chair of the NJ LBC. "We are excited to continue the legacy of former Assemblyman John S. Watson, to unite thought leaders, decision-makers and higher education to address the systemic and structural need for equity in urban communities."
Kean Vice President Barbara George Johnson, who holds a master's degree in public health from Columbia University and a law degree from Rutgers University, brings more than 25 years of experience as a public policy professional and will head the Institute under the leadership of Kean Senior Vice President for External Affairs Joseph Youngblood, Ph.D., a seasoned academic and higher education executive with policy expertise who is also joining Kean.
 
"The Watson Institute for Urban Policy and Research at Kean will advance cross-disciplinary, urban-focused research to search for practical, scalable and sustainable solutions to our state's most pressing social, civic and economic challenges," Youngblood said. "The addition of the Institute further positions Kean as a premier comprehensive urban research university and a more vigorous partner, thought leader and statewide urban anchor institution."
Together Youngblood and Johnson bring a combined 50 years of experience advancing practical public policy for urban communities:
Uniting urban mayors to be a stronger voice on policy and legislation impacting the state's cities and some of its most vulnerable residents
Creating the country's first urban-focused Comprehensive Economic Development Strategy (CEDS) not connected by borders
Protecting residents of low-income communities from the harmful impacts of air pollution by developing and shaping innovative public policies from an environmental justice perspective
Spotlighting the problem of Black maternal and infant mortality in New Jersey by conducting research on its causes
Examining the policy implications of COVID-19 on disparities in urban centers and the allocation of funding to cities to address the public health and educational needs of citizens during the pandemic. 
"The Institute's partnership with urban practitioners, policymakers and community stakeholders establishes an impactful collaboration that will inform urban decision-making and public policy on critical issues such as sustainable growth, economic development, water quality and infrastructure, education, environmental justice, health and public safety," Johnson said. "This unique partnership will revolutionize urban policy formation processes in the state."
Since becoming president of Kean University in July 2020, Repollet has announced that the University will formally pursue classification as a research institution under the Carnegie classification system.
"This new urban policy institute further showcases Kean's commitment to excellence in research that benefits our communities," said Ada Morell '97, chair of the Kean Board of Trustees. "We look forward to seeing the impact of this critically important work for decades to come."