The 'Poetics of Practice' at Inaugural College of Liberal Arts Convocation
The words of poet Terrance Hayes provided an inspiring start to the new academic year at the first College of Liberal Arts Convocation.
The 900-seat Wilkins Theatre was filled on Tuesday, September 18 as Acting Dean Jonathan Mercantini, Ph.D., welcomed the college's new students and officially launched the 2018-2019 academic year.
Hayes, the author of seven poetry collections and a MacArthur Fellow, was the keynote speaker. He recalled his days at Coker College in South Carolina, which he attended on a basketball scholarship.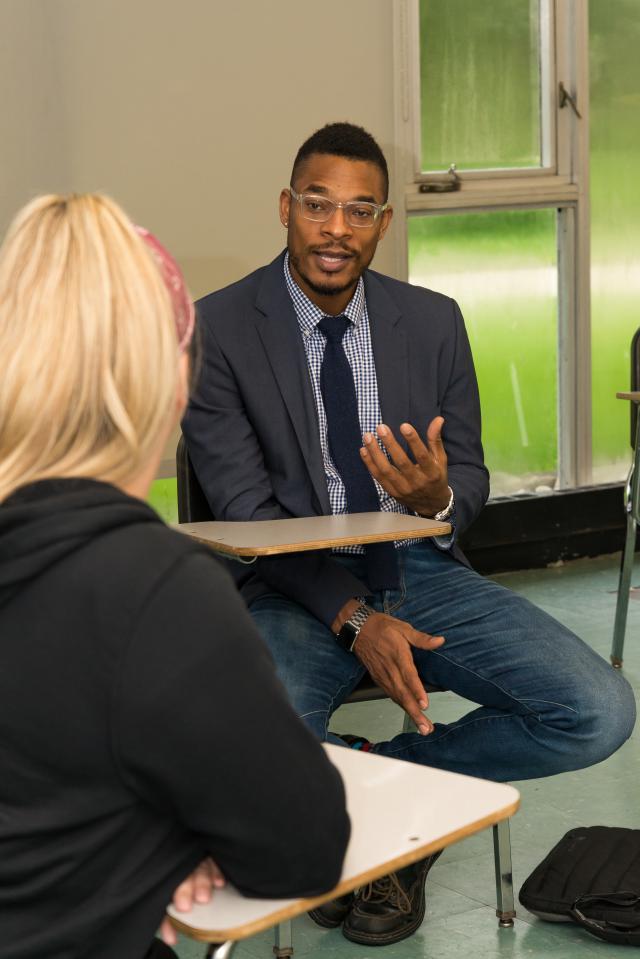 "I always liked practice better than games because I could do more and the stakes were lower," he said.
Hayes encouraged students to use that "practice" time in their lives — when they have the freedom to "work for themselves" — to discover their passion.
"You should have something to practice when you are not doing other people's work," said Hayes, who read from his poems during the event. "Right before you fall asleep, those moments when you find yourself daydreaming — those are the poetic, creative moments."
This year's Convocation begins a new annual tradition and provides a shared experience for College of Liberal Arts students.
President Dawood Farahi, Ph.D., reminded the new students that Convocation is the start of their academic journey at Kean.
"Today's Convocation puts you on your academic path toward commencement. You walk on the stage, all of your family members are there, and you graduate. That is the best day of my life each year," he said.
Mercantini noted that as liberal arts graduates, the students will be trained to succeed in the 21st century.
"The ability to communicate clearly and effectively, to work well in diverse teams, to think critically and to be prepared for a lifetime of learning — that is what a liberal arts education gives you," he said. "Challenge yourself. Be intellectually curious."
The message of the day resonated with students like Sabine Gabrius, a sophomore sociology student from Irvington.
"I'm here, and I am ready to push it," she said. "I am heading to the sociology department right now to speak with the professors and staff to see where I will head with my degree."