Provost Jeffrey H. Toney, Ph.D., Named Visiting Scholar at Harvard University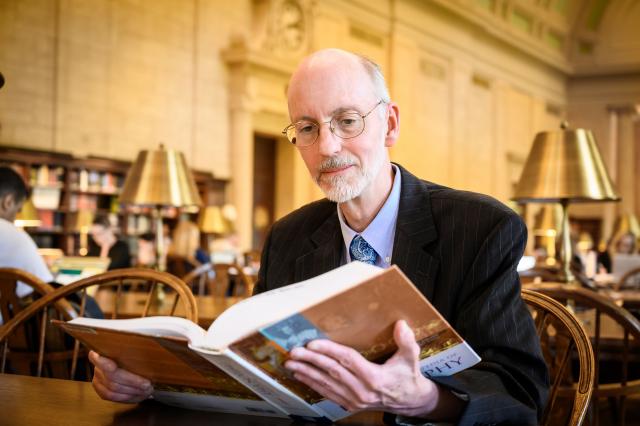 Provost and Vice President for Research and Faculty Jeffrey H. Toney, Ph.D., will spend the summer of 2020 as a visiting scholar in the Harvard University Department of the History of Science researching the topic, How Amateurs Changed the World: Philosophical Foundations of Scientific Discoveries.
The Harvard appointment is in addition to his current role as a visiting professor in the Department of  Linguistics and Philosophy at the Massachusetts Institute of Technology (MIT), where he conducted research this past summer. He will hold both posts concurrently in the summer of 2020.
Toney said one of his key goals is to explore academic opportunities for Kean students at both prestigious universities.
"I am delighted that there are currently 14 programs at MIT with which I have connected and am having productive discussions about how to include Kean students as interns or to be involved in research projects. We are in the process of nominating students to be considered for these extraordinary opportunities," Toney said. "I see many possibilities for our students at Harvard too."
Kean President Dawood Farahi, Ph.D., appointed Toney to the newly created role of Vice President for Research and Faculty earlier this year to reflect Kean's increased focus on advancing faculty and student research.
"Dr. Toney's latest appointment at Harvard will open up many more opportunities for our students at one of the best universities in the world," Farahi said. "It's also a tremendous and well-deserved achievement that shows the caliber of Dr. Toney's research and scholarship."          
As a visiting professor at MIT this past summer, Toney met with faculty and students to share his interdisciplinary research connecting the humanities, sciences and arts. He also conducted research to develop a book initially focused on the late Thomas S. Kuhn, an influential philosopher and mentor with whom Toney studied as a post-doctoral student at MIT in 1987.
At Harvard, he will continue his research into Kuhn, as well as physicists Niels Bohr and J. Robert Oppenheimer, and psychologist B.F. Skinner. Through case studies focusing on how they developed from amateurs to leaders in their fields, Toney will argue that scientists must be enlightened, strengthened and inspired by history and philosophy to make scientific advances.
"Having access to the vast resources at both Harvard and MIT is a priceless gift to expand this research in ways I can't yet imagine," Toney said.