Raising Community Awareness About Hunger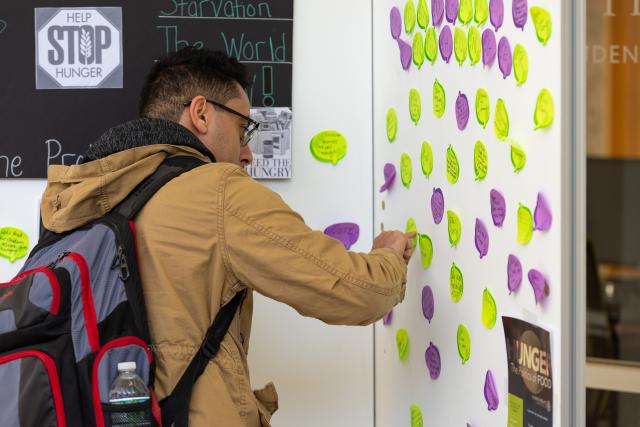 The Kean University community is gearing up for this week's Human Rights Institute (HRI) conference, Hunger: The Politics of Food, with a series of activities to raise awareness about hunger and food insecurity in the United States and around the world.
Award-winning chef and food policy activist Tom Colicchio, head judge and executive producer on Bravo's Top Chef, is the keynote speaker at the conference on Friday, March 22, in Wilkins Theatre from 9 a.m. to noon. It is free and open to the public, but pre-registration is required.
"We want to include the Kean community in the conversation about the causes and impact of hunger, and possible solutions for it," said Lauretta A. Farrell, D.Litt., HRI director. "These activities give everyone an opportunity to learn about the issue and advocate for changes to improve the lives of others.
On Kean's Union campus this week, students, faculty and staff are offering their ideas on how to end hunger, by posting on the "Hunger Wall" at Miron Student Center from 11 a.m. - 4 p.m. through Thursday, March 21.
Patrick McEachern, a junior sociology student from Bergenfield wrote, "universal basic income" on the wall, advocating for a proposal to give all citizens over the age of 18 a monthly stipend.
"Often times, people cannot afford to sufficiently feed themselves. This may be that they cannot afford food at all; they cannot afford a full meal, or even a nutritious one," McEachern said. "This forces people to choose the unhealthy option that will fill them up but will end up harming their health. With universal basic income, people will receive a set amount of money each month that will help them afford healthy food for themselves and their families while still being able to pay medical bills, rent and any other expenses."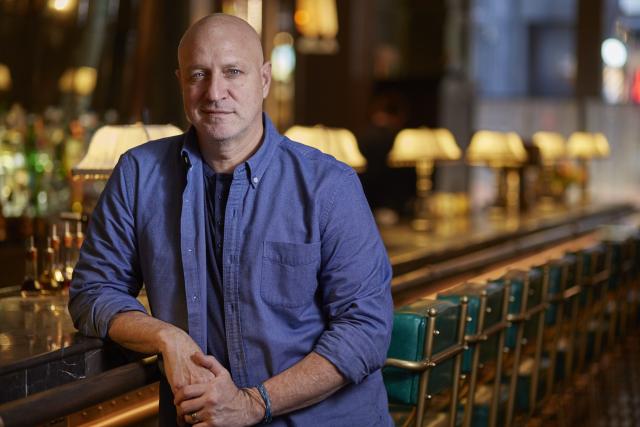 Forty million Americans struggle with hunger and 6.5 million children live in food-insecure households where they don't have reliable access to nutritious meals, according to statistics from the U.S. Department of Agriculture (USDA).
In an effort to alleviate the problem of hunger on campus and reduce the stigma around receiving food assistance, Kean is opening a food pantry. Cougar Pantry will be located at the HRI and is currently accepting donations of non-perishable food and personal hygiene items. Students will be able to get food during regular drop-in hours as well as by appointment. For more information, contact Lauretta Farrell at lafarrel@kean.edu.
On Wednesday, March 20, the documentary A Place at the Table will be screened at the Cougar's Den from 5-6:30 p.m. Colicchio served as executive producer of the 2013 film which examines the persistent problem of food insecurity in the United States even as obesity rates rise.
Finally, a food policy advocacy workshop will be held in the Greek Lounge on Thursday, from 4:30-6 p.m. Sponsored by Kean's Center for Interdisciplinary Studies and conducted by Karen Washington, a leader in the urban farming movement, it will be a how-to for anti-hunger activists who want to help direct policies and approaches to ending hunger.  
Washington, who has over 40 years of experience helping communities of color access nutritious food and build healthy lives, will also speak at the Human Rights Institute conference on Friday. The third speaker will be Kean alumna Lovely Randle '16 MPA, who has conducted research on the correlation of food deserts and childhood obesity.
This is the 12th annual HRI conference. Previous conferences have explored issues including refugees, immigration, healthcare, the global water crisis, and modern slavery.