Student Volunteers Share Cougar Spirit in the Community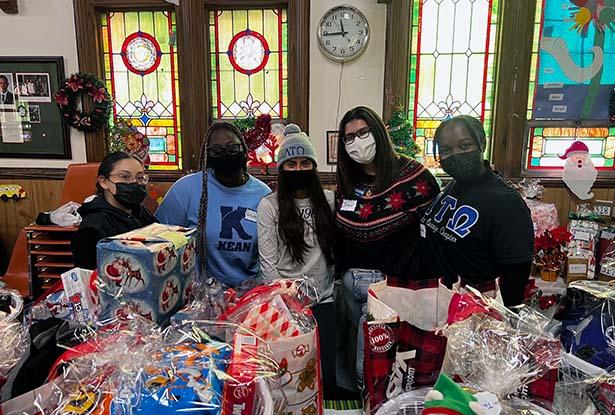 Kean students manned a "holiday boutique" for homeless families in Elizabeth, strapped on kids' ice skates at a winter festival in Union, collected toys for Newark children and performed other volunteer work to spread Cougar spirit through the wider Kean community this holiday season.
The University has a long-held tradition of community service, and many students said they were even more inspired to help during the long COVID-19 pandemic.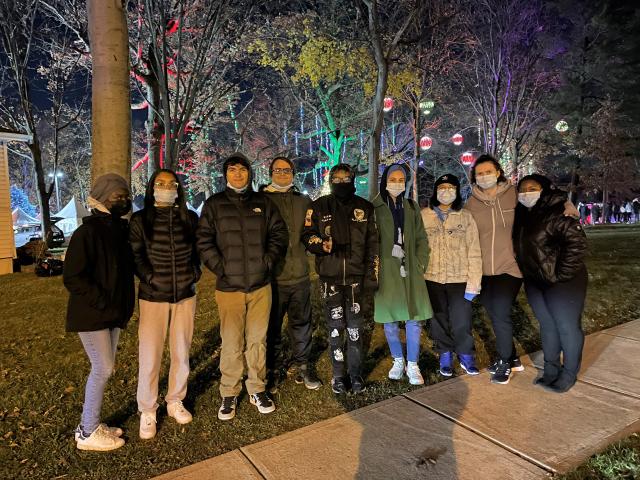 "Kean students are known for their volunteerism and for making a difference on our campus and beyond," said Kean President Lamont O. Repollet, Ed.D. "As we enjoy the holiday season this year, Kean Cougar spirit is stronger than ever, and I'm proud of how our community always stands ready to help."
Students have opportunities to volunteer year-round through the Center for Leadership and Service (CLS), Be the Change NJ, the Human Rights Institute, fraternities, sororities, student clubs, academic groups and many other organizations.
Junior Jaclyn Beviano of Linden, a mathematical science and secondary education major, helped at a free, festive Holiday Village event in Union where children skated at a synthetic ice skating rink.
"I love volunteering, so when I saw the event on Cougar Link I decided this is something I would do," she said. "I really enjoyed seeing the kids' faces when they got off the rink." 
"I feel even more interested in volunteering after the pandemic," Beviano added.
Criminal justice major Elmer Arriola of Elizabeth, a junior, also volunteered at the Holiday Village. "It brought back that holiday spirit I had as a kid," he said. "It was awesome to see parents and kids interact and enjoy themselves. I'm glad I volunteered."
CLS organized the Holiday Village trip with the Union Township Recreation Department. Scott Snowden, Kean assistant vice president for student affairs, said the pandemic impacted some service projects by limiting the number of volunteers permitted. But that didn't lessen the students' desire to give back.
"My favorite question to ask volunteers on a service project is, 'Why are you here?'" Snowden said. "These students all really just seem to like working with the community. The volunteer spirit is very much alive at Kean."
Be the Change NJ, a Kean-based service group, provided 200 Thanksgiving meals to needy families this year, fed 300 families through an emergency food pantry, and worked at vaccine clinics. In Newark, the group donated some 700 toys to children in a holiday toy drive.
"We have always had many students volunteer, even during these hard times," said Professor Norma Bowe, Ph.D., Be the Change NJ advisor. "We love to be able to help all in need, especially during the holidays."
In Elizabeth, Kean students staffed Bernice's Place Holiday Boutique for the Elizabeth Coalition to House the Homeless. Students followed COVID-19 safety precautions and worked in shifts to bring donated gifts to families and hand out holiday stockings and goodies.
"It was wonderful to be able to pass on the holiday cheer to children and see their faces light up," said Kean freshman finance major Melanie Huashuayo of New Providence. "After not being able to attend in-person volunteer events due to the pandemic, I feel more inclined to volunteer."
Susan Figueroa, Kean managing assistant director for community service and civic engagement, said the Kean volunteers were touched by the gratitude of the families.
"Even though sometimes the students and the patrons didn't speak the same language, they both recognized there was warmth and appreciation being shared between them," she said.