Students Embark on an Involvement Adventure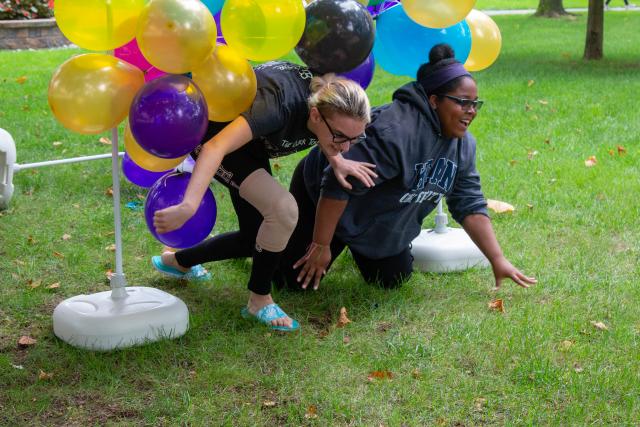 Kean just ended two weeks of fun and games with a purpose — to encourage students to get involved in organizations on campus.
Involvement Week, when students learn about the various student organizations, meet peers and volunteer, was followed by the Involvement Games, an Olympics of sorts in which students and student groups compete at various events to win prizes.
"I can't believe this obstacle course is just out here," said Janaya Deberry, class of 2022. "This is a great way to get students involved."
At the Adventure Course, students completed an obstacle course in a race against the clock that tested the participants' agility, balance and coordination. The students had to complete tasks such as tiptoeing through a rope ladder, zipping a soccer ball through cones, hopping to the finish line in a potato sack and more.
"The idea for the adventure course came out of the desire to see students having a little fun without the need to make a major time commitment," said Jonathan Lopez, coordinator of student involvement. "This is true for all the Involvement Game events — fun with some friendly competition. We really just want to give students an opportunity to feel connected and involved on campus."
The individual with the fastest time received Kean gear. Student organizations competed as teams to win points for their clubs and a chance at prize money for their groups.
In addition to the Adventure Course, Involvement Week activities included a weeklong Scavenger Hunt, in which students had to solve riddles and complete tasks; Shazam It, a test of music knowledge; and Eat N' Play Trivia, which students played while relaxing and dining in the Cougar's Den.
Events for the Involvement Games included a beach volleyball tournament; Minute-to-Win-It, a series of goofy challenges; Deal or No Deal, a game of luck; Arcades Space, a trip back in time to play games such as Pac Man and Donkey Kong; and for students looking to give back, a volunteer project at the Kennedy Reservation to clean up litter.
The organization that took first place, Sigma Theta Chi, received $500 toward promotional items. The second-place winners, Men of Excellence, received $200 toward food for a group event, and the group that placed third, Phi Beta Sigma, received a free pizza party.