The Tower Honored as Top College Newspaper in New Jersey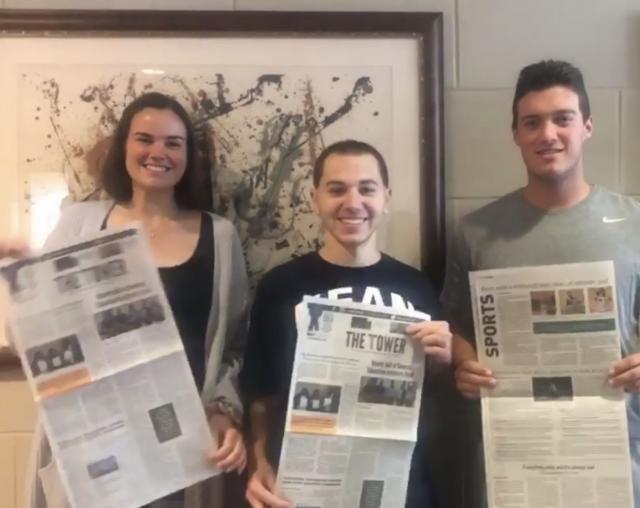 The independent student news organization at Kean University, The Tower, has been named best overall college newspaper in New Jersey by the New Jersey Collegiate Press Association (NJCPA). The overall honor is a first for Kean.
In addition to the award for "General Excellence," Tower reporters and staff also won individual awards in the categories of news writing, feature writing and overall website.
The Tower is produced in a journalism course in the School of Communication, Media & Journalism, within the Kean College of Liberal Arts. 
Acting Dean Jonathan Mercantini of the College of Liberal Arts congratulated the news outlet's staff.
"The award is wonderful recognition of the hard work of the student writers and editors of The Tower and their advisors," he said. 
The NJCPA is judged by professional journalists. The General Excellence award is based on "coverage, writing quality, copy editing, style and layout in the newspaper." Judges also take into account local appeal, effectiveness and readability, according to NJCPA rules.
The Tower course is taught by co-advisers Pat Winters Lauro, resident journalism faculty, and Lois DeSocio, adjunct professor. Both worked professionally as reporters and editors.  
They said the staff has grown about three-fold in the past five years, forcing the organization to move its meetings from the small Tower newsroom in CAS to a larger classroom. 
Lauro said the paper was previously named among the top three college newspapers in the state, but never before received top honors. 
"I am so proud of our editors and staff," she said. "This is validation. We are a small program, but we know journalism." 
DeSocio cited the level of coordination and commitment required for staff to cover stories, meet deadlines, edit content and publish both online and in print.
"To be recognized as number 1 by the NJCPA is a much-deserved accolade for all that hard work," she said. "I am over the moon at what The Tower staff has achieved."
Rounding out the top three in the category of General Excellence for the 2019-2020 school year are The Equinox at Fairleigh Dickinson University, Metropolitan Campus in second place, and The Vector at New Jersey Institute of Technology in third place. 
In individual categories, Lena Zhu, who is features editor at The Tower and a senior majoring in communication/journalism, was awarded second place for Biography/Personality Profile. Siobhan Donaldson, a senior majoring in communication/journalism, received third place honors in the news category. The website, www.kutower.com, received third place honors. Wynter Aiken, a senior majoring in communication/journalism, is online editor. 
Kean senior communication/journalism major Craig Epstein, editor-in-chief of The Tower, said this top award will further motivate a staff already dedicated to producing quality journalism.  
"Whether it's the professors, editors, reporters, or designers, we operate as one big family," he said. "Together we will look for continued success and to be the best news organization that we possibly can be."