Two Kean Students Committed to 'Writing Wrongs'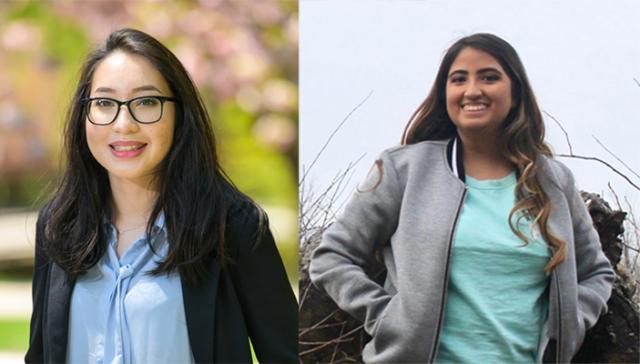 Two Kean students were selected to take part in Writing Wrongs, an intensive three-day workshop that produced a published book, Outgrowing: Stories from the LGBTQ+ Community.
Claudia Argueta of Elizabeth, a senior graphic design: interactive, screen and print major, and Gisell Padilla of Sayreville, a junior graphic design: interactive advertising major, both served on the book's design team. Both students added design elements throughout the book to give it a more cohesive look.
Fifteen students from local colleges and universities worked on the book, including aspiring journalists, designers, videographers and social media managers. The students interviewed 17 people and their families about the challenges they face in today's world. 
"It's a program I recommend participating in if you believe in social activism," Argueta said. "After reading about the unfair treatment in the LGBTQ+ community, I was inspired to use my design skills to help publish this book to tell their stories."
Writing Wrongs is a nonprofit collegiate journalism program that seeks to highlight injustices and misperceptions in society. Each year, Writing Wrongs features a new topic and a new book title is chosen. All work is completed in its entirety by the students.
The book, Outgrowing, includes a series of interviews focused on different members of the LGBTQ+ community, with titles such as An Identity in Flux; A Community in Support; Navigating Your True Self; and A Girl Who Loves a Girl Like Me.
Argueta designed a graphic timeline of historic events in the LGBTQ community and formatted the layout of the book for all of the designers. She also redesigned the table of contents, the introduction and additional articles.
Padilla worked on the design and layout of the cover, in collaboration with the illustrator. Additionally, she formatted several articles and the glossary.
"We are proud that Claudia and Gisell chose to donate their talent, skills and time to Writing Wrongs," said Rose Gonnella, associate dean of Michael Graves College. "We encourage our students to reach beyond studio assignments and to use their skills and energy to become engaged in projects that are meaningful to themselves and serve a greater good."
The book is on sale through online booksellers, with the proceeds going towards the facilitation of the program. Applications for Writing Wrongs 2020 are currently available at https://seekreporttruth.com/apply-students/. This year's topic is racism.