A Virtual 'Dinner with the Dean' Comes with Pizza Delivery from Kean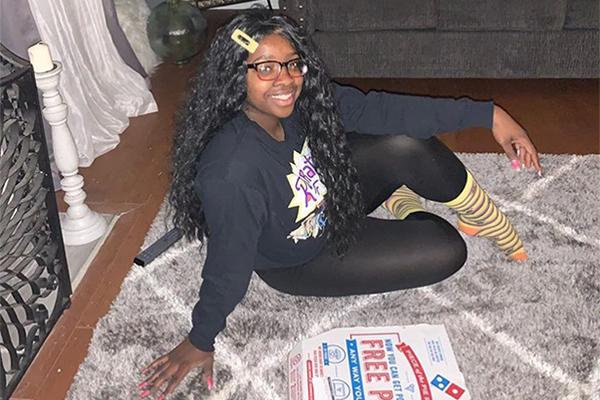 From New Jersey, New York and Pennsylvania to as far away as Texas, high school students who have been accepted to Kean University are receiving a simultaneous pizza delivery to share with their families as they participate in virtual "Dinner with the Dean" events to learn more about enrollment.
The virtual events offer a COVID-19 twist on the traditional dinner events that typically draw hundreds of students to campus each spring. Through Dominos' various franchises and their contactless delivery, Kean is still able to provide accepted students and their families dinner.
"Every spring, we invite our accepted students and their parents to meet with our deans to talk about Kean's great academics. After COVID-19 caused us to transition to a virtual campus, we decided to create a virtual dinner table around the tri-state area," said Marsha McCarthy, vice president for enrollment services.
Students get the chance to interact virtually with Kean's academic leadership, alumni guest speakers, and current students from each of the University's colleges — while enjoying a meal and maintaining social distancing.
"We love to bring accepted students to campus because they feel right at home, but the virtual dinners also have a positive impact in different ways," McCarthy said. "They allow us to bring our campus to them. The students get answers to questions about curriculum, job prospects, financial aid and other topics that are so important to families. And joining together for dinner creates a connection that we are all in this together."
On Tuesday, April 21, more than 70 students who had been admitted to Kean's College of Business and Public Management met virtually through Zoom. They heard from two alumni about their experiences at Kean; asked questions in the comment section; had breakout sessions to learn more about their academic programs of interest; and took a virtual tour of College's new building, the state-of-the-art Hynes Hall, which will open for classes this fall.
"I can't wait to use the Hynes building in the fall," one student commented.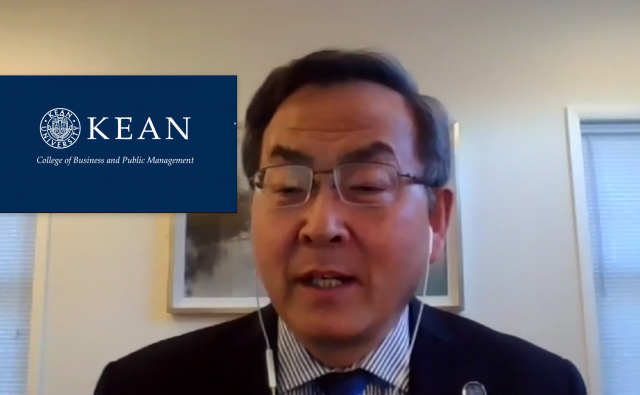 "We have a very beautiful campus and a very inviting community," Dean Jin Wang, Ph.D., told the students. "We have relevant, rigorous and rewarding academic programs for you. We are committed to helping you achieve your personal and professional goals."
Zaniyah Nichol, an 18-year-old high school student from Orange, plans to attend Kean in the fall to pursue a degree in marketing so that she can start her own business one day. She said the Dinner with the Dean helped convince her that Kean is where she wants to continue her education.
"Although we can't meet in person, we were able to attend an event online and get to know the school," she said. The pizza was, for her, a surprise. "I was happy because it was not something that I expected. I didn't eat it during the conference, but I ate it before and after."
The accepted students asked a range of questions about internships, residence halls, opportunities for commuters, majors and minors, combined and accelerated programs and more, and received answers in real time from staff in the Office of Admissions who also participated in the virtual meeting.
For De'Etra Pickett, a 2001 Kean graduate from Raritan, and her daughter Tom'Miece Pickett-Telfair, the virtual Dinner with the Dean was the next best thing to being there. Believing that the offer for pizza delivery was "a bluff," De'Etra began to prepare dinner for her family that evening.
"Then, I got a message, 'Enjoy your pizza.' I said, 'OK, it's really happening," she recalled. "It wasn't a phone call or a text message. It was an actual sitdown dinner with the dean. I hadn't seen anything like that before. Mimi (her daughter) has been accepted to many schools, and no one has done that."
"It was like a movie night with the family," said Tom'Miece, "and a great opportunity to learn from the deans what the department is all about."
Tuesday's dinner was the third in a series. Kean's College of Liberal Arts and New Jersey Center for Science, Math and Technology held their dean's dinners two weeks ago. Other dinners are planned for the College of Education (Thursday, April 23), The Dorothy and George Hennings College of Science, Mathematics and Technology (Saturday, April 25) and Michael Graves College (Thursday, April 30).
"We know that this is a challenging time for high school seniors and their families," McCarthy said. "We're trying to make it a little bit easier for them to learn about us so they can be confident in their decision that Kean is the best fit for them."
For more information, visit Kean's Admissions website.