Women Take the Lead at Graduate Commencement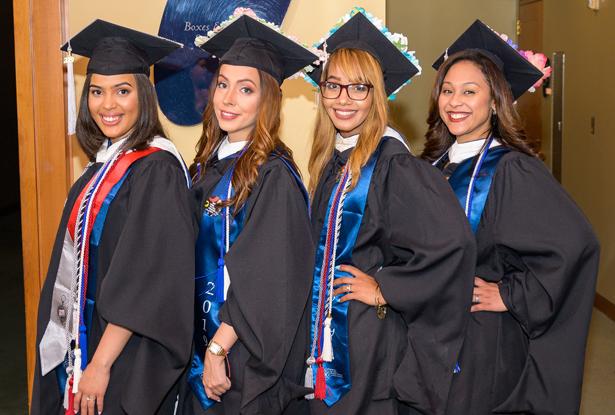 Women receiving advanced degrees from Kean University's Nathan Weiss Graduate College took a bow to thunderous applause, and the music of Beyoncé, at the graduate college commencement ceremony, held on Friday, May 17  at New Jersey Performing Arts Center in Newark. Nearly 80 percent of the Class of 2019 are women.
In conferring 726 advanced degrees this year, the College also marked two significant milestones — the first graduating classes in the Doctor of Physical Therapy and the Speech-Language Pathology Doctorate programs. In all, 58 doctoral degrees in the fields of education, psychology, nursing, physical therapy and speech-language pathology were awarded this year, a record for the University.
Kean President Dawood Farahi, Ph.D., encouraged the graduates to enjoy the moment, be grateful, and pay it forward.
"Be generous with your knowledge; share your knowledge with other people. Move the ball forward," he said. "With knowledge comes the responsibility to make your community better and hopefully, change the world.
"I don't know what is going to happen on Game of Thrones Sunday," Farahi told the graduates. "But I know that you will all be on your own thrones of success."
With humor and insight, Commencement Speaker Nancy Giles, a comedian, actress and CBS News Sunday Morning contributor, recounted personal stories to demonstrate that making mistakes is a way to learn, grow and find success.
"You don't know what is going to happen. Life is a giant improv, and so many good things can come out of bad situations," she told the graduates. "The work that you've done to get where you are and the electricity in the air today is so remarkable. Ask questions. Be forgiving of yourselves. You are here. You have done a great thing, and it's huge. Be proud of what you have accomplished."
In addition to the doctoral degrees, the College conferred master's degrees and post-baccalaureate certificates in the fields of health care, education, business, science and the humanities.
Saying, "You are Kean!" Nathan Weiss Graduate College Dean Christine W. Thorpe, Ed.D., reminded the graduates that commencement is a beginning that offers new opportunities.
"You will never forget the countless hours you dedicated to finals, field work, your thesis, and your dissertations while juggling jobs and families to reach your professional dreams," she said. "You will continue to learn and evolve far beyond your wildest imaginations."
Graduate Student with Distinction Nasya Hammond-Watson of Newark, who earned a master's degree in forensic psychology, had the graduates close their eyes and reflect on the people who helped them along the way.
"As you carry on with your lives, make a choice to pay for someone else's crown," she said. "Break barriers, push boundaries, and make room for those coming after us. May our light shine so bright that it leads the way for others to follow."
Graduate and Part-time Student Council President Robert Schiele of Toms River, who also graduated with a master's degree in forensic psychology, urged the graduates to "run in the direction of success" and always be true to themselves.
"When given a choice, don't feel discouraged to go the opposite way from the crowd, welcome it," he said. "When you don't follow the crowd, you strengthen yourself, your beliefs, your thinking, your decision and your capability."
For the graduates, Commencement was the culmination of years of hard work and long nights studying. Taylor A. Williams '16, '19 DPT of Great Neck, New York, 24, is the youngest Doctor of Physical Therapy graduate.
"It has been my dream since I was a junior in high school," she said, adding that physical therapy brought her back from a sports injury. "So, for it to come to fruition feels amazing. I'm getting ready to be a real adult now."
Shrenik Patel '19 M.S. of Middlesex is graduating with a master's degree in biotechnology. After Commencement, he plans to work at a pharmaceutical company.
"I did cancer research throughout my master's program, and I'm so proud of it," he said. "I'm so happy about my graduation, but I'm going to miss my college."
Kean University's Undergraduate Commencement was held on Thursday, May 23, at the Prudential Center in Newark. Emmy Award-winning actor Jeff Daniels,  who is nominated for a Tony Award for his current role in Broadway's To Kill a Mockingbird, was the Commencement Speaker for the 2,856 graduates receiving bachelor's degrees, and their families, friends and supporters. Read more.