Weekly Networking Event Inspires Entrepreneurs at Kean University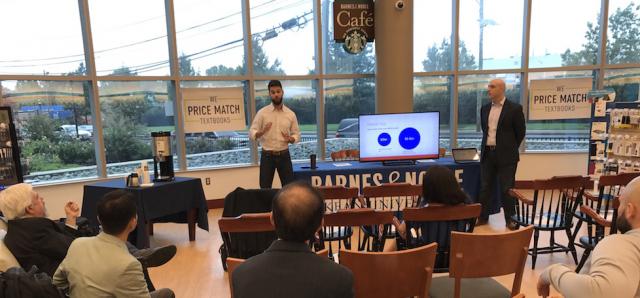 Union, N.J. - Kean University is working to accelerate early stage startups by hosting 1 Million Cups, a free nationwide networking program designed to support, engage and connect entrepreneurs. Each week, two entrepreneurs will present their startups, followed by a question and answer session. 1 Million Cups convenes on Wednesdays at 9 a.m. in the Barnes & Noble bookstore located inside Kean's Green Lane Academic Building at 1040 Morris Ave. in Union, New Jersey.
Local entrepreneurs, venture capitalists, angel investors, student entrepreneurs, social entrepreneurs and the entire community are invited to come, enjoy free coffee and support local businesses. Every third Wednesday of the month, the series will explore the theme of Social Entrepreneurship.
"1 Million Cups provides a venue for start-up entrepreneurs to present problems to a knowledgeable audience of fellow entrepreneurs and receive meaningful feedback and insights," said Kean University Professor Janine Black, Ph.D. "Students at Kean University, especially those who plan to start their own companies, will hear real-life examples and benefit from the audience's suggestions on how to resolve issues and face challenging entrepreneurial environments."
Inspired by the concept that entrepreneurs discover solutions and network over a million cups of coffee, 1 Million Cups is sponsored by the Kauffman Foundation. 1 Million Cups at Kean University recently hosted Brett Sodie of Podium, an online platform that records and shares university classes and Bruce Waltuck of Freethinc...For A Change, a personal consultancy described as "consulting through a new lens."
David Margulies, regional director of the New Jersey Small Business Development Center (NJSBDC) at Kean University, will present an overview of the Center's services and host a half-hour 1 Million Cups networking event at 8:30 a.m. on Wednesday, October 4. The NJSBDC at Kean University serves Union County and provides finance, marketing, management, bookkeeping, registration and certification services to small business owners. One-on-one counseling is provided at no cost to clients. To learn more visit: www.kean.edu/sbdc.
Photo caption: Christian Balevski (left) and Brett Sodie (right) of Podium present Learn What Matters, a 1 Million Cups at Kean University event.