Fabio Mazzieri Exhibition
Fabio Mazzieri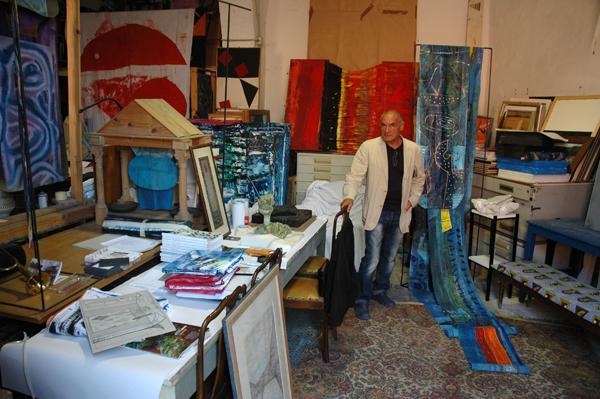 Click here to visit Artist's blog
Fabio Mazzieri will travel from his home town of Siena, Italy to create a gallery installation specifically for the Karl and Helen Burger Art Gallery at Kean University. The title Fabio Mazzieri: Extended and Folded, makes reference to the artistÕs unusual canvases that are neither stretched, framed or hung on the gallery walls. Some works are rolled, and some works are folded. Imposing and larger than human scale, the pieces will be hung as dramatic installations to be viewed in three dimensions. MazzieriÕs will be present for the opening reception on Thursday, October 6th, 2011 from 4:30 Ð 7:00 p.m.
A few years ago, Mazzieri discovered an old dowry chest containing hand-woven cloth crafted by his mother and grandmother. The discovery inspired Mazzieri to paint on these precious fabrics some of which are over 100 years old. Instead of using this antique muslin as a blank canvas or a fresh sheet of paper, Mazzieri chose to collaborate with his past. Intuition took over as he noticed each fold and every uneven discoloration. Little by little he responded to the surfaces with fresh brush strokes and new colors of paint. This experience has become the source of his new paintings. For Mazzieri, the creases or marks left in the material are an important aspect of the work. There is no need to flatten them out. Fabio Mazzieri is well known in central Italy where he has organized and participated in countless exhibitions and creative installations. Comprehensive solo shows for Mazzieri are currently planned for the Modern Art Museum in San Gimignano, and the Art Museum in Pienza.
The Mazzieri exhibition will run from October 6th through December 20th, 2011 and is located in the Maxine and Jack Lane Center for Academic Success Building at 1000 Morris Avenue on the campus of Kean University in Union, New Jersey. Hours are Monday through Friday 11:00 a.m. to 4:30 p.m. Admission is free to all visitors.