Now Offering Remote Services!
The Kean Counseling Center offers mental health services to enrolled students of Kean University at no additional cost. When a student makes an appointment for an initial consultation, that student will be seen by a counselor and will have an opportunity to discuss the issues that are of most concern. The counselor will perform an assessment, determining the appropriate level of care to address the student's needs. The counseling center provides a range of services to students, including:
  Individual and/or group counseling
Individual counseling affords the opportunity to speak with a trained clinician (either a licensed professional or a graduate-level supervisee) who will listen to you without judgment or criticism, help you identify your goals and then work with you to help you make changes in your life.
Group counseling is also led by a trained clinician, and has the added benefit of having other group members who share some of your concerns and can offer support and feedback from a peer perspective.
Students are recommended for individual and/or group counseling based on their particular need.
Virtual Drop-in Spaces
Kean Counseling Center now offers virtual drop-in spaces! We recognize that while some students may not need ongoing therapy, that doesn't mean they don't need support. Kean students can now drop-in to one of our open groups to connect with other students, learn new coping strategies and enhance their personal growth. 
Open to all students, no registration required!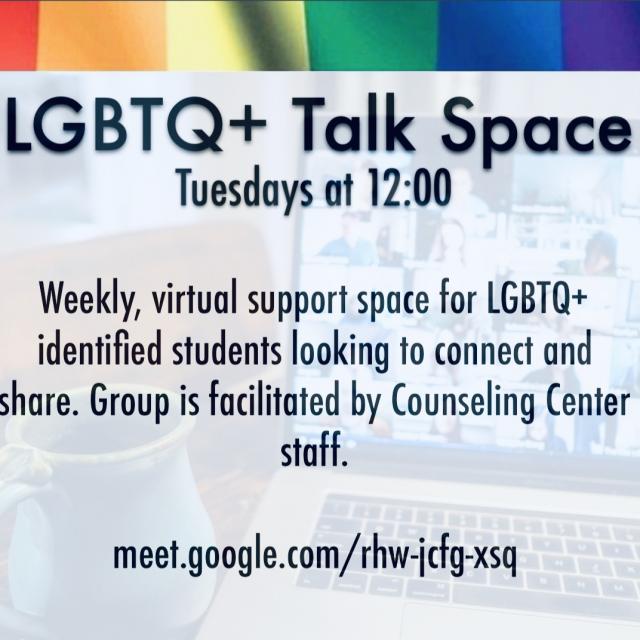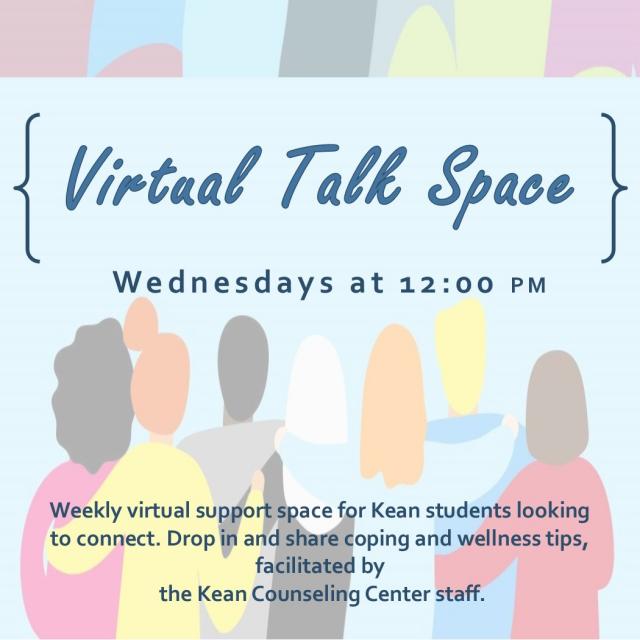 Psychiatry/medication management
This is sometimes appropriate to help the student maintain stability and to make the student's counseling program more effective.
When indicated, a student may be referred for a consultation with our on-site psychiatrist, who will be able to assess the student's appropriateness for medication, provide information, answer any questions the student may have and prescribe medication if indicated.
Psychiatric services are only available for students who are actively involved in ongoing treatment with one of our counselors.
  Referral to an outside agency/provider:
This can occur when the student requires a higher level of care or when the student is unable to utilize our services due to restrictions in their schedule or some other constraint.
Eligibility for Services
Our services are available for all enrolled students of Kean University at no additional cost. Please note, Kean employees, even those who are also students, must utilize the mental health services provided through the University's employee assistance program (EAP). For questions or to access services, contact Yrelys Tapanes in Human Resources, (908) 737-3313. If you have questions regarding which services are appropriate for you, call the counseling center at (908) 248-2065.
Kean Counseling Center services may be time-limited, and recommended treatment plans may change/evolve as treatment progresses.
Confidentiality
All records of the counseling center are private and confidential. When a student comes to the center, the information gathered does not become part of a permanent University record or personnel file. Nor does information gathered appear on any transcript or official document of any type. Exceptions and limits to confidentiality will be explained to the student, in writing, prior to that student sharing any information. Students may discuss further questions or issues with their counselor during the initial consultation and as needed during the course of counseling.
Making an Appointment
Contact us by phone or email at: 
Kean Counseling Center:
NEW REMOTE Phone Number: (908) 248-2065
Email: counseling@kean.edu
Consultation
Clinicians are available to consult with parents or faculty/staff members regarding a student of concern. To speak with a clinician, please call the counseling center directly. In the event of an emergency after business hours, please call the Kean police at 911.