Tuition and Fees (Online)
Kean proudly offers the most affordable tuition in the ranking of the Top 10 Best Online Colleges in NJ according to Value Colleges. Undergraduate tuition is $471 per credit including student fees. Graduate tuition is just $823 a credit, including fees. Compared to other public and private four-year institutions, Kean University offers the most affordable comprehensive education in New Jersey.  
Study more, earn more
The higher your degree, the greater your earning potential. That's a fact. As a community college graduate, you've increased your earning potential and you've increased your ability to get hired. But why stop there? Most jobs, whether they're in the public or private sector, require at least a bachelor's degree to get your foot in the door. Why curtail your employability before you've even begun? 
Check out this chart by the Bureau of Labor Statistics: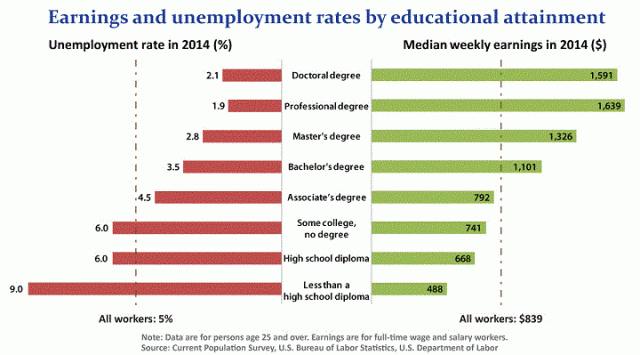 It shows that earnings increased for bachelor's degree holders by $309 a week for those in the middle range, and employability went up a full percentage point from the associates degree.