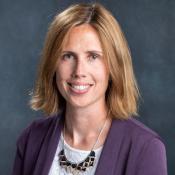 Karen Smith  
Vice President, University Relations
Karen Smith oversees communication, branding, marketing, alumni engagement, web and public relations for Kean University.
She is a dedicated strategic leader and an experienced journalist. In her work as a reporter and editor, she covered K-12 and higher education for The Dallas Morning News and The Times of Trenton. She is the former senior director of News and Media Relations at Rutgers University. 
Karen earned a bachelor's degree in journalism from Northwestern University and a master's degree in communication from the University of Texas at Arlington. An adept digital storyteller, she is responsible for crafting and sharing the Kean story via print, video and social media platforms.
"I want to share the Kean story in new and different ways to help prospective students and others appreciate what makes Kean such an extraordinary place," Smith said. "This university has a fantastic story to tell prospective students and others. It's my job to make sure it's being shared effectively through all channels."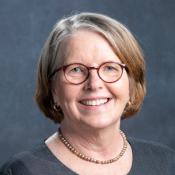 Margaret McCorry 
Associate Vice President of University Relations
Margaret McCorry is associate vice president of University Relations at Kean University. She joined the Office of University Relations in August 2015, serving first as director of media relations. 
At Kean, Margaret oversees Kean News, the University's social media channels and media outreach. She works with students, faculty and administrators across the University to identify Kean's stories of achievement and advancement, at the individual, college or academic program and universitywide levels. These stories are shared on Kean's website, in the weekly Kean News e-newsletter, on social media and with the region's media. Margaret also works to promote Kean's outstanding faculty as subject matter experts, both through support on op-eds and direct pitches to the media. 
Margaret came to Kean from Seton Hall University, where she was associate director of media relations. Prior to her career in higher education, she had a 20-year career as a radio news anchor, reporter and producer in New York and New Jersey, including 11 years at Bloomberg Radio.
Margaret has a bachelor's degree in journalism from New York University and a master's degree in education from Seton Hall University.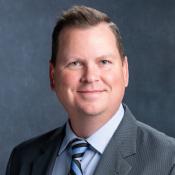 Cameron Bowman 
Director of Multimedia Production and Strategy
Cameron Bowman is the director of multimedia production and strategy at Kean University. He specializes in bringing Kean's unique stories and important messages to life in video and photos through the powerful narratives of stakeholders across campus. 
Cameron's passion for creating videos started at 15 years old when his father let him use the family's VHS camera, and he figured out how to rig two monstrous VCRs together to edit the videos he shot. His dedication to the craft and his interest in exploring the medium's possibilities have only grown over the years.
Cameron graduated from Purdue University with a degree in mass communications and has since worked in broadcast television, radio and higher education — gathering over 40 awards for his work. When not telling stories, Cameron loves to travel and spend time with his family.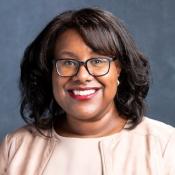 Danielle Ford 
Webmaster and Managing Assistant Director for Digital Content Strategy
Danielle Ford is webmaster and managing assistant director for digital content strategy at Kean University. She has over 10 years of service at Kean in a variety of project management and marketing roles. She currently manages website operations for Kean.edu and provides ongoing training and support for over 120 content editors. 
Danielle brings years of project management, analytics, SEO and content strategy experience to her current role. She enjoys the collaborative work environment at Kean and presenting research and achievements from a variety of disciplines in a compelling way on the web. 
Prior to Kean, Danielle worked as a marketing communications consultant in the pharmaceutical, fashion and medical technology industries. A graduate of Rutgers University, Danielle is also a national conference speaker and her writing has been published in Kean Magazine, GatherContent, Inside New City and Harness magazine. An avid traveler, she enjoys hiking, water sports and volunteering.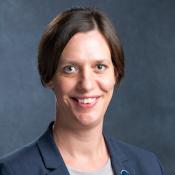 Carol Ann Koert 
Director, Alumni Engagement
Carol Ann Koert joined the University Relations team in April 2021 as the director of alumni engagement. In this role, she helps connect alumni to the University by providing a wide range of events and volunteer opportunities.
At Kean, Carol Ann's priorities include creating new opportunities to engage with young alumni, building better communication channels post-graduation and providing valuable programming for alumni. In addition, she collaborates with colleagues across campus to create and support alumni participation at Kean University.
In more than 15 years in higher education, Carol Ann has worked as an alumni relations professional, advancement coordinator and in other roles. Prior to joining the team at Kean, she ran alumni engagement initiatives for Saint Elizabeth University. She also was the director of alumni events at Seton Hall University where she planned over 100 events a year.
Carol Ann has a Bachelor of Arts degree in political science from York University and a post-graduate certification in corporate communications from Centennial College, both in Toronto, Canada.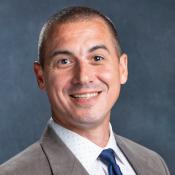 Joey Moran 
Creative Director
Joey Moran is Kean University's creative director and is responsible for the design of all of the University's branded materials, in print and online. 
A Kean alumnus, Joey pairs his creative vision with his extensive institutional knowledge and experience to create bold and uniquely Kean designs for a wide variety of projects, including internal and external communications, print and online marketing materials, Kean Magazine, advertisements, signage, alumni outreach and other promotional materials. He also supports event planning and community engagement efforts.
He graduated with a Bachelor of Fine Arts degree in visual communication from Kean University in 2001 and started as a graphic designer in University Relations in May of that year. Joey advanced to senior designer and was named Kean's creative director in 2009.
Joey says he likes to make people smile, and on most days at Kean, he succeeds.
Media Relations
 

Millie Gonzales
Communication Strategist 
 

Jeanette Rundquist
Lead Writer

 

Lucia Serje
Social Media Strategist
 

Edwin Smiley
Academic Specialist

Ericka Ambrose
Student Publicist
Multimedia
 

Bryan Pekarek
Videographer

Erico Rovayo 
Videographer

Samuel Vladimirsky
Videographer

Lawrence Cortes
Contract Videographer

Ian Alfano 
Contract Photographer
Marketing and Creative
 

Liza Argue
Marketing Writer
 

Craig Coughlin
Events Specialist
 

Erin Shon
Contract Graphic Designer
 
Office Staff
 

Christine Lopez
Professional Services Specialist